Stronger Support for Women Entrepreneurs
For almost 7 years, WomenVenture and Plaudit Design have worked closely to ensure that their website continues to help fulfill their organizational mission: to help women attain economic self-sufficiency through the creation and growth of profitable and sustainable businesses.
As an important part of the WomenVenture communication strategy, the newest iteration of the website needed to strengthen several key areas. So we came up with a plan to reorganize, rebrand, and enhance the site to better serve the needs of both WomenVenture and women entrepreneurs across Minnesota.
Services Provided
Planning & Strategy
Responsive Web Design
Web Development
Updated Branding
Since launching a brand-new website in late 2011, WomenVenture continued to evolve their brand. After many enhancements and updates to the website, it was time to revisit the design and integrate the new brand at a deeper level. So we utilized print and digital collateral to create a vibrant and modern take on the WomenVenture website. Bright colors, friendly icons, and imagery of real business owners help to highlight the energetic and enthusiastic leadership WomenVenture provides.
Better Support for Women Entrepreneurs
Beyond enhancing the appearance of the website, the true goal was to better support their core audience. As WomenVenture grew their offerings and expanded their services, they realized that the site was no longer able to communicate with them effectively. So Plaudit Design and WomenVenture worked together to reimagine how the core services could be presented to both new guests and loyal partners.
Training & Education
Some of the most important services provided by WomenVenture are the training and education opportunities designed to help women entrepreneurs at all stages of business development. The new training section of the website was designed to help website visitors find the right courses to help them grow their business. By highlighting the core classes to help people get started, and providing additional opportunities, visitors are better able to determine which courses are the right fit.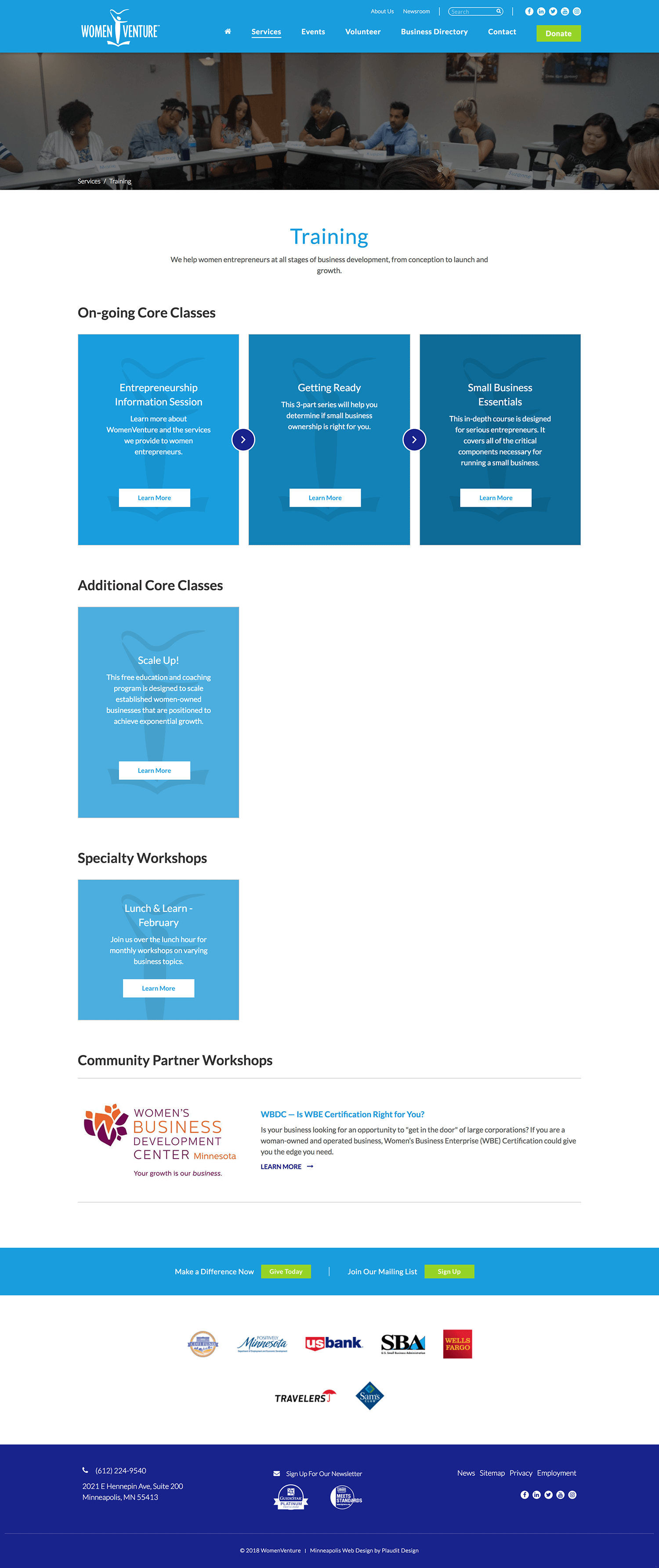 Loans
WomenVenture provides access to financial resources through loan programs specifically for women-owned small businesses. The completely revamped Loans section guides visitors through the process and provides helpful details about the loan programs.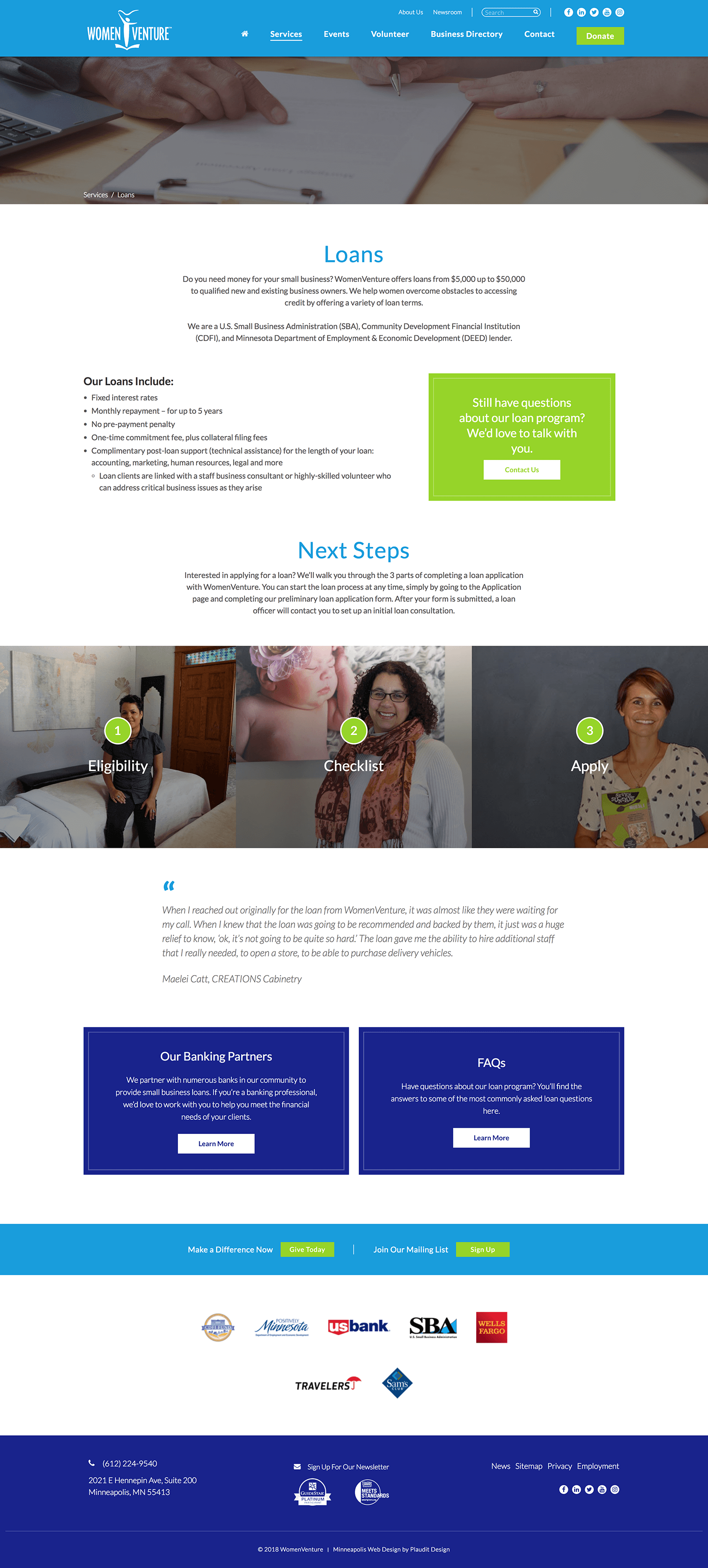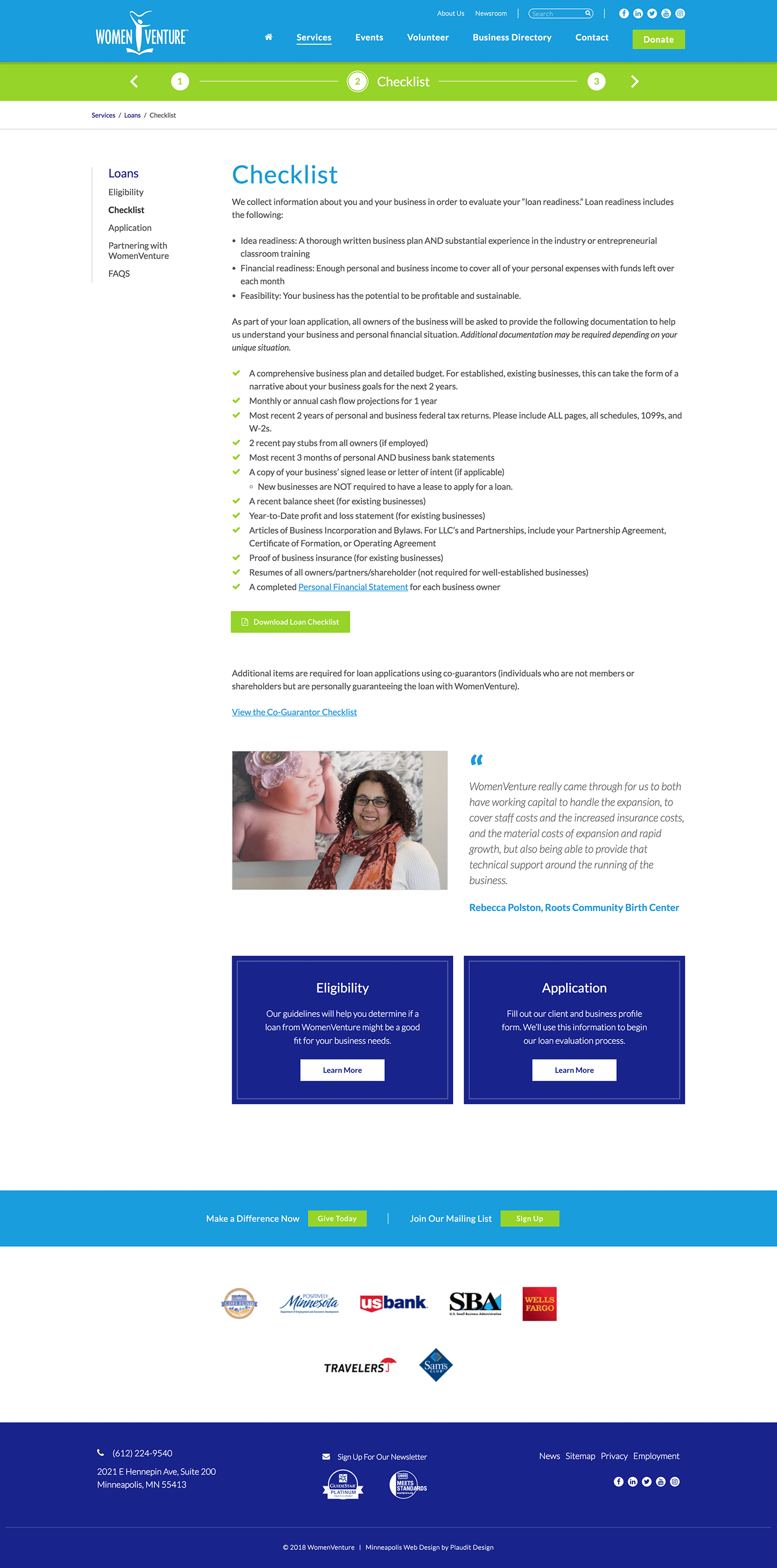 Annual Events
As a leader for women in business, WomenVenture also works to support the community by bringing together women entrepreneurs and business owners through major annual events. A new section dedicated to annual events helps to showcase these gatherings and ensures a consistent place for website visitors to find the latest developments and information leading up to each event.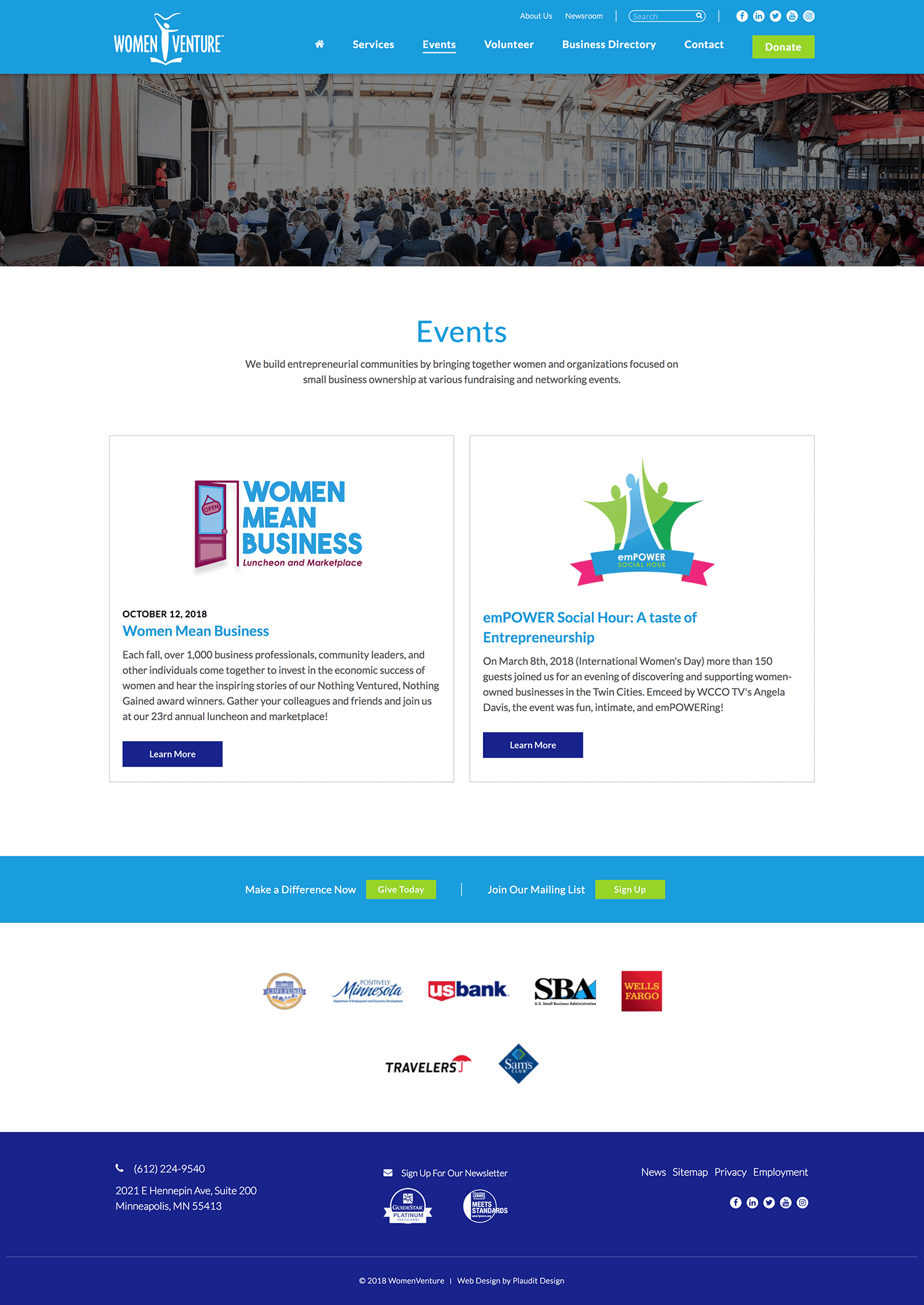 Home Page Redesign
To better direct website visitors, and to more easily communicate WomenVenture's mission, the home page was redesigned to put the core services front-and-center, and to highlight the community impact in an easy-to-understand graphic. This new home page serves as a wayfinding device for website visitors seeking assistance by enabling them to dive directly into the WomenVenture services to learn more.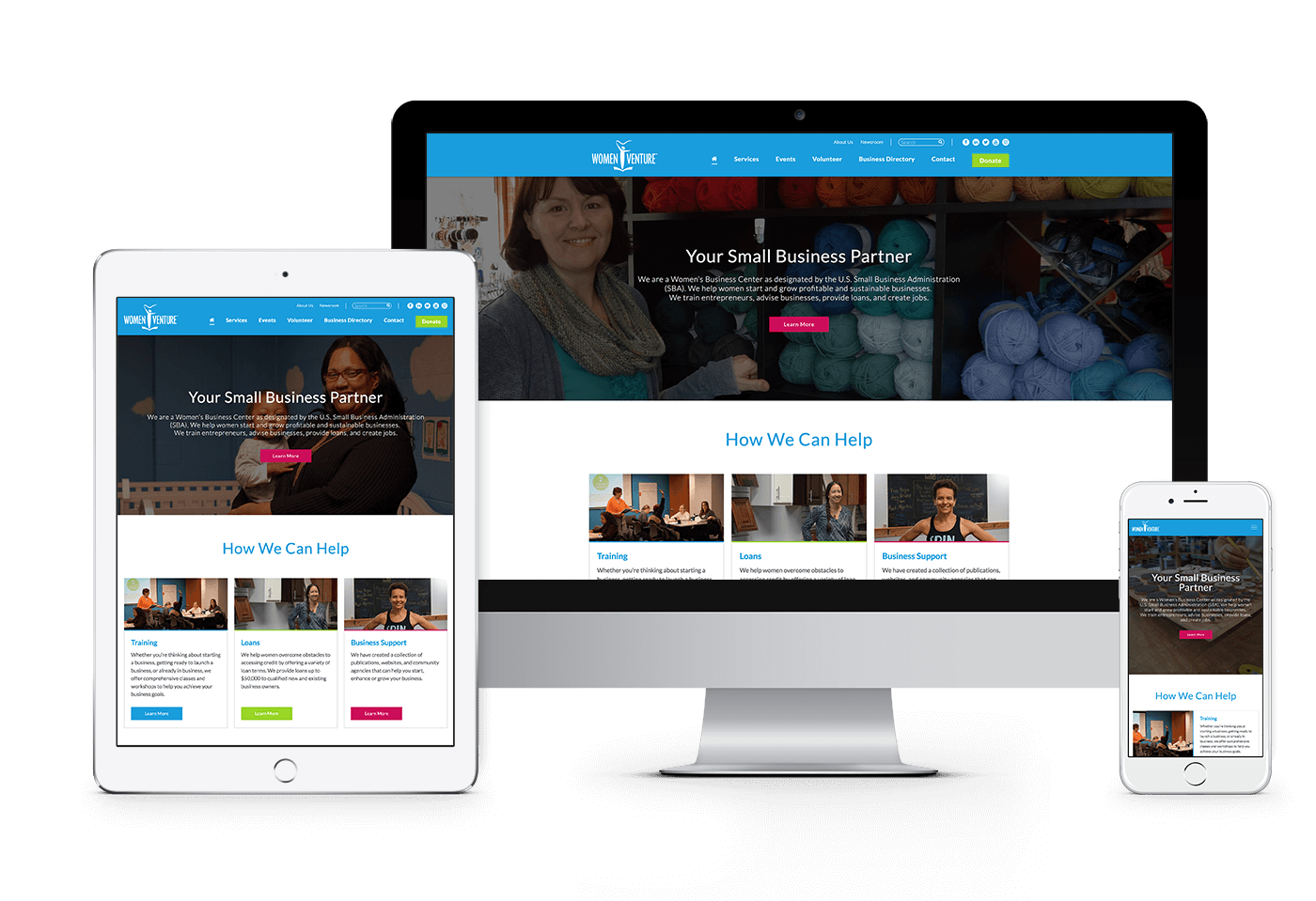 Boost Volunteerism
Through their 40 years of service and partnership, WomenVenture has created a strong community of business owners and entrepreneurs. A redesigned Volunteer space highlights opportunities for volunteers to make a meaningful contribution and give back to that community through mentorship programs and their network of consultants.