The Cove on
Lake Minnetonka
Industry
Luxury Real Estate
A Rare Enclave of Comfort and Charm
The Cove on Lake Minnetonka offers an exclusive, uniquely-designed neighborhood with access to over 140 acres of permanent and protected open space. Our web designers worked with Carlson Real Estate and other stakeholders to craft a brand, and an array of marketing collateral including a custom designed website for this luxury community.
Services Provided
Branding
Responsive Web Design
Web Development
Google AdWords
Search Engine Optimization (SEO)
Copywriting
Unique Amenities
Our designers collaborated with the client to define the messaging, and translate that into an engaging website experience built to encourage exploration. The end result incorporates skimmable text, and custom photography and videos to showcase the unique amenities of the neighborhood and surrounding area.

User Focused, Mobile Optimized
The website was designed to highlight everything that makes The Cove on Lake Minnetonka a unique place to build a home. We knew that this marketing messaging needed to be accessible from all devices to be successful.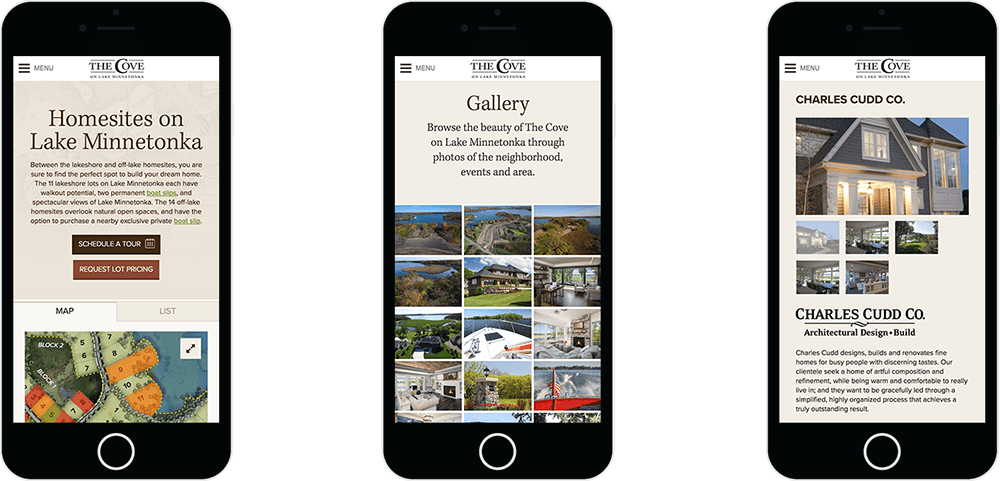 Custom Interactive Maps
We designed, developed, and integrated a number of customized interactive maps into the website. These maps include the ability to explore the area, the neighborhood, and individual lots that are available for purchase.