Studio Eight
Industry
Advertising & Marketing Production
After almost 45 years of evolution, Professional Litho partnered with Plaudit Design to launch a new website to support a completely new brand identity: Studio Eight. This new brand represents the integration of three separate divisions with decades of creative, production, and photography experience as one brand under one roof.
Plaudit Design worked with Studio Eight to create a dynamic and engaging website designed to capture the attention of marketing and advertising professionals, and showcase their class-leading capabilities.
Services Provided
Planning & Strategy
Responsive Web Design
Animation/Interaction Design
Web Development
Capturing the Brand
Launching a new brand is a big step, and it's critical to make an impression and cement the brand image. By combining subtle visual cues like accent colors and logo elements, with client-focused imagery, we created a website that captures and communicates the essence of the Studio Eight identity – a talented partner, focused on supporting brands and agencies.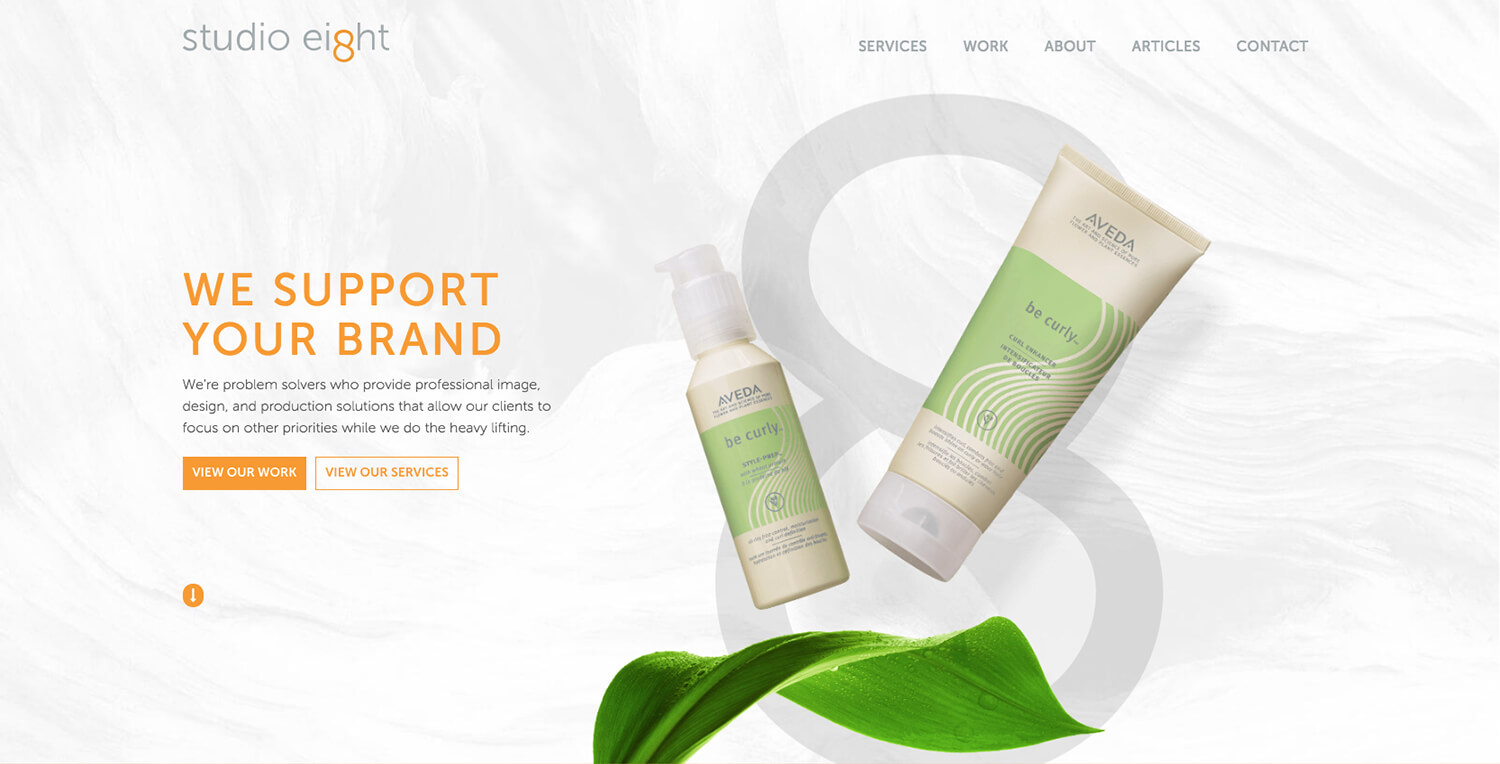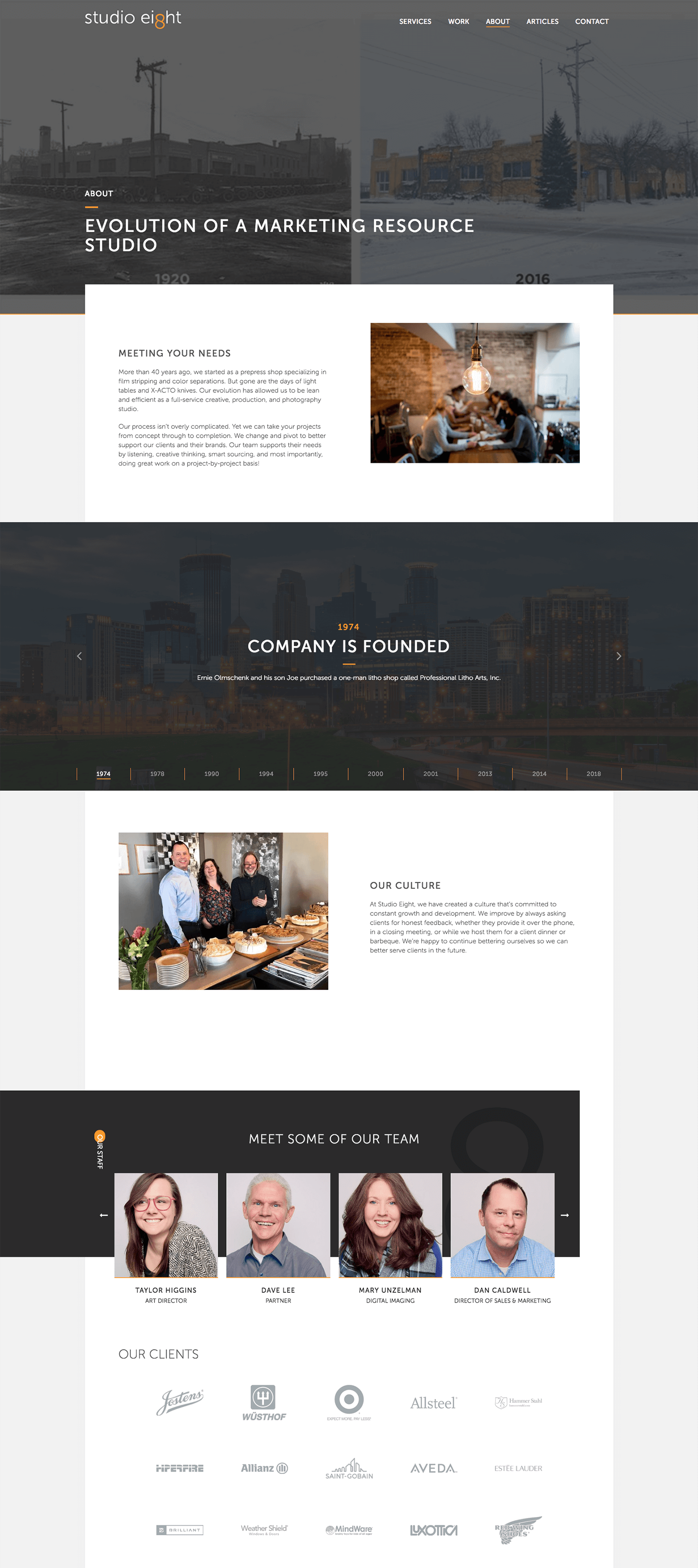 Inspiring Action
In order to boost engagement and drive visitors deeper into the site, we integrated animations throughout the site, starting with the top of the home page. Visitors are immediately greeted with an opportunity to view the portfolio or the services. A custom slideshow puts emphasis on sample work, while the background integrates the Studio Eight logo with subtle supporting imagery. Further animations draw attention to key design elements and suggest a convention of style and refinement.
A Creative Showcase
The entire site serves as a showcase for Studio Eight's talent and experience. Each and every section was an opportunity to not only introduce, but demonstrate just what Studio Eight does best – helping brands execute big ideas.
Services
With the consolidation of three separate divisions into a single, one-stop brand support resource, it was critical to clearly present Studio Eight's three core disciplines. The throughout the website, this theme is reinforced and visitors are encouraged to learn more. As they dive deeper, compelling imagery invites them to explore examples of Studio Eight's work.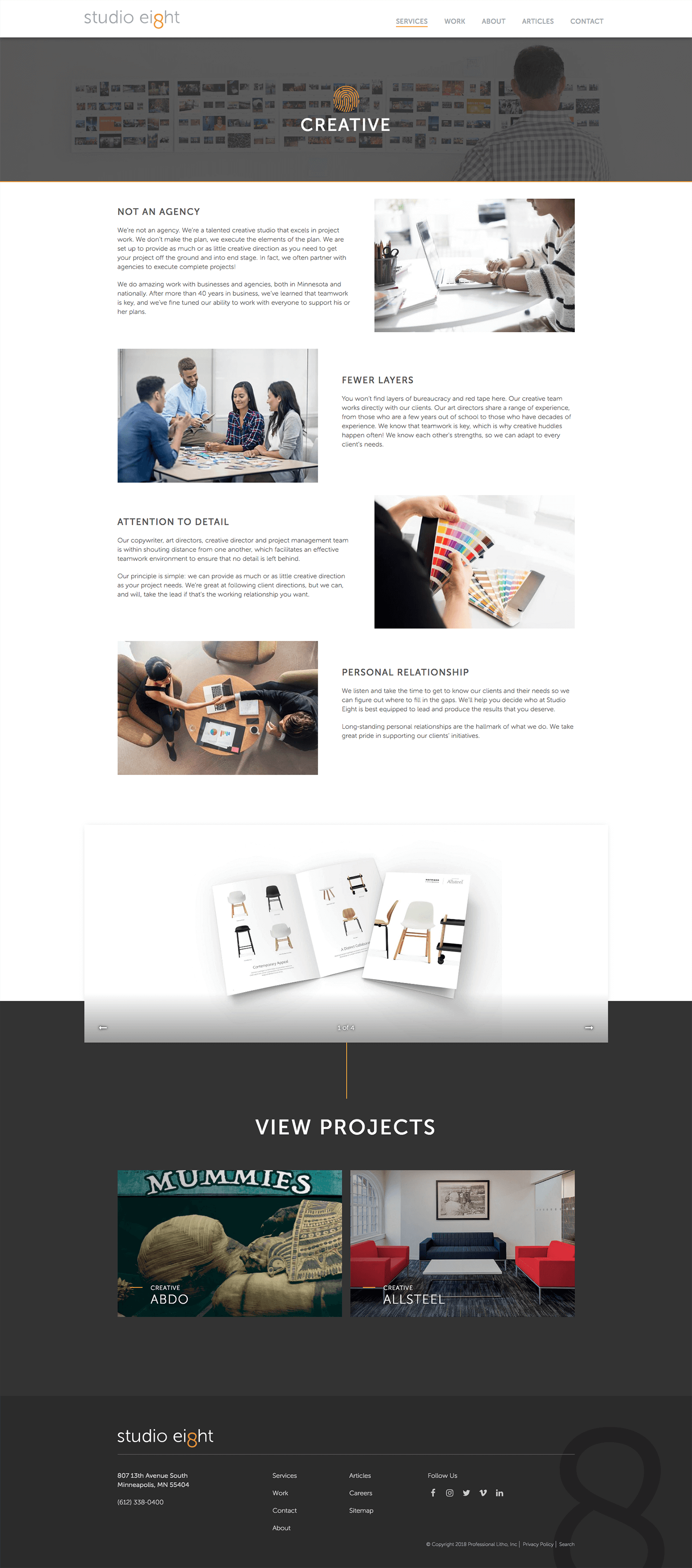 Work
The Work area places further emphasis on exactly how Studio Eight helps brands get more done. Multiple custom designs and layouts automatically accommodate more in-depth case studies, as well as simpler work galleries, With these flexible options, Studio Eight is able to efficiently highlight prime examples of their services in action.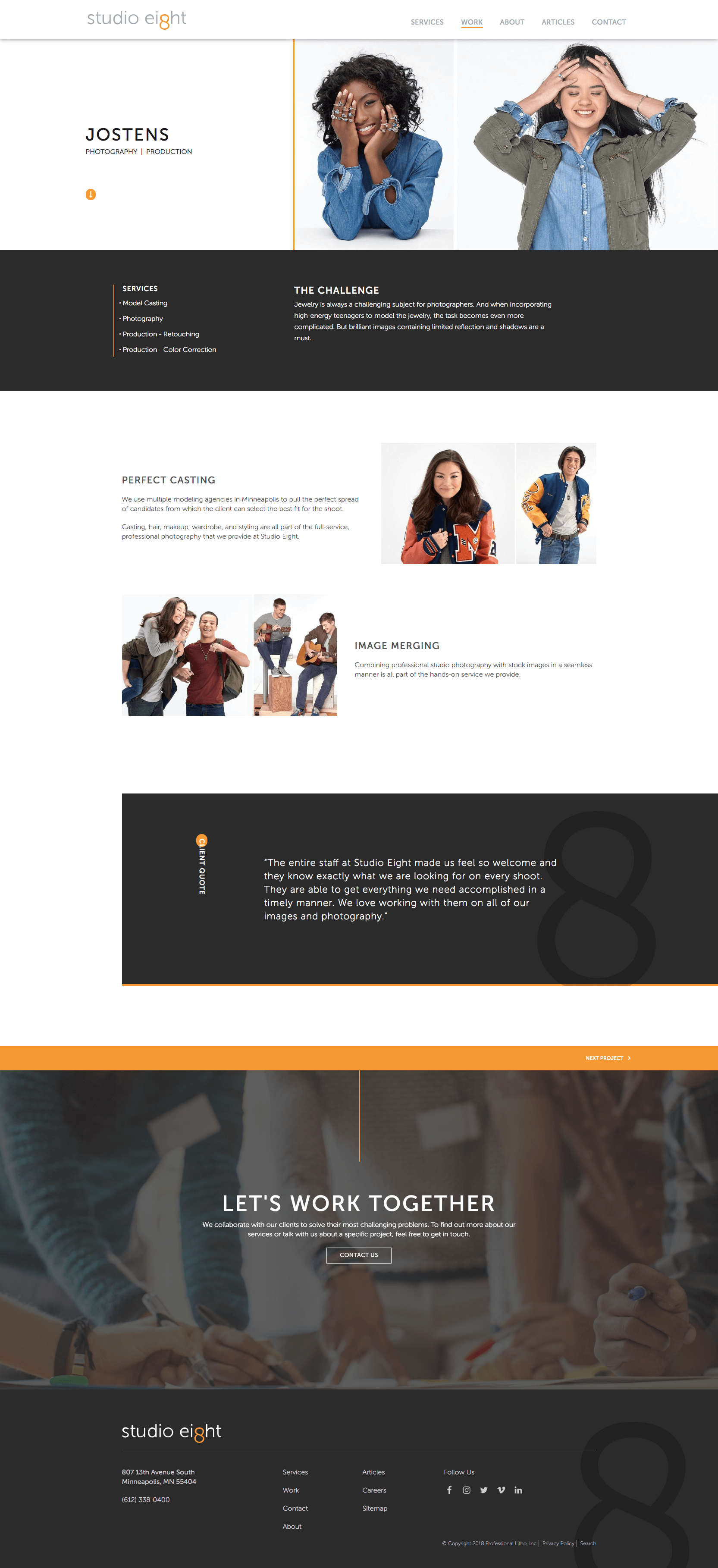 A Knowledgeable Partner
Studio Eight has provided creative value to businesses and agencies in Minneapolis/St. Paul for almost 45 years. The new website includes an article space to serve as an outlet for the insight and expertise gained over those years. By posting articles about techniques, capabilities, and strategic opportunities, current clients and new visitors alike are better able to take advantage of Studio Eight within their own initiatives.