Experience Elegance
In-Store
and Online
Raffiné Bridal, one of Minnesota's premier bridal and formal wear destinations, reached out to Plaudit Design with a vision for an entirely new website. While the previous website included the core information they needed, Raffiné needed to extend the unparalleled in-store experience to web and mobile devices. Our strategy, design, and development teams crafted a new website to better represent the premium brand they had built – from the exclusive designs customers can find, to the first-class service provided by their bridal consultants.
Services Provided
Planning & Strategy
Responsive Web Design
Animation/Interaction Design
Web Development
Programming/System Integration
Beauty and Elegance
We worked with Raffiné to craft a design that puts beauty and elegance front-and-center. The delicate and refined aesthetic incorporates prominent photography and tasteful animations so that visitors immediately experience the sophistication and service they can expect in-store. Whites, grays, and subtle plum tones impart an air of luxury, and serve to support the Raffiné brand.
Finding the Perfect Gown
For many brides-to-be, finding the perfect wedding gown for their special day is one of the most cherished experiences. To support this experience, we designed and developed the Bridal space to empower visitors to explore designers, styles, and ultimately fall in love with a dress.
Highlighting Designers
At Raffiné, every collection contributes a unique character and a distinct style. These collections, and their designers, have been curated to ensure that each bride can find a dress that is both beautiful and uniquely theirs. By highlighting these designers throughout the site, visitors are able to begin by exploring dresses that best fit their personal taste.

Search and Filters
The customized filters enable visitors to further refine their search to specific gown features based on their personal style and preferences. In addition to filtering by designers, dresses can be filtered by "Silhouette," "Neckline," and "Straps & Sleeves."
A Vision of Beauty
As shoppers explore wedding gowns, each dress is presented using a clear layout focused on the most important questions a shopper could have. A comprehensive gallery showcases the dress from every angle, and encourages the bride-to-be to envision the dress on her wedding day. Information about styles, colors, and sizes clarify what options are available. Finally, a prominent call-to-action clearly directs the visitor to make an appointment and drives traffic to the store.
Spotlight on Service
Raffiné has always placed a priority on customer service. It was important that the website be able to showcase the experience they created for their customers, and the team they built to help guide that experience. The "Why Raffiné" section serves to highlight the Raffiné Bridal vision, the personal bridal consultants, and the private fitting and viewing areas in order to truly showcase the comfortable and inviting atmosphere.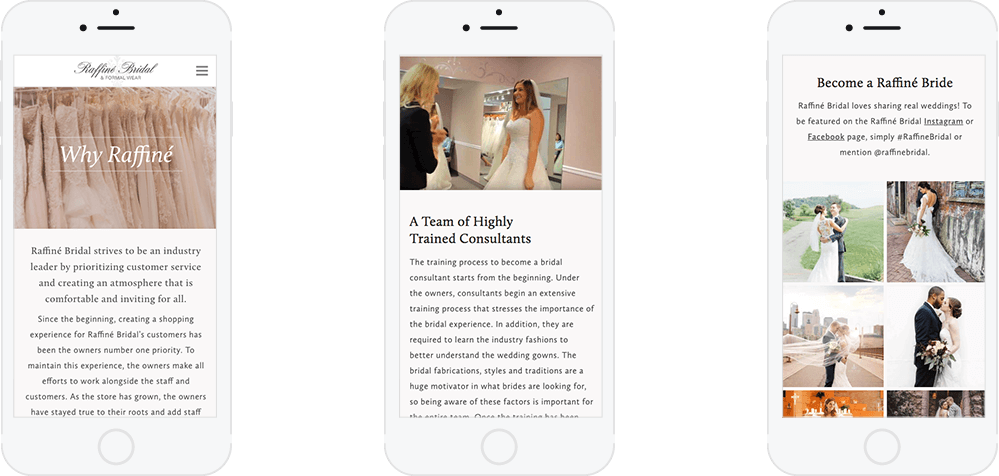 The Complete Wedding Party
Beyond bridal gowns, Raffiné also offers formal wear for the entire wedding party and prom-goers. The website features distinct spaces for bridesmaid dresses, tuxedo and suit rental, and prom dresses. Brides-to-be can feel confident that their bridal consultant will help everyone look their best by outfitting the entire wedding party, and young women can experience the same exceptional shopping experience when picking out their prom dress.