Nichols Kaster
Industry
Law Firm (Employment & Consumer Protection)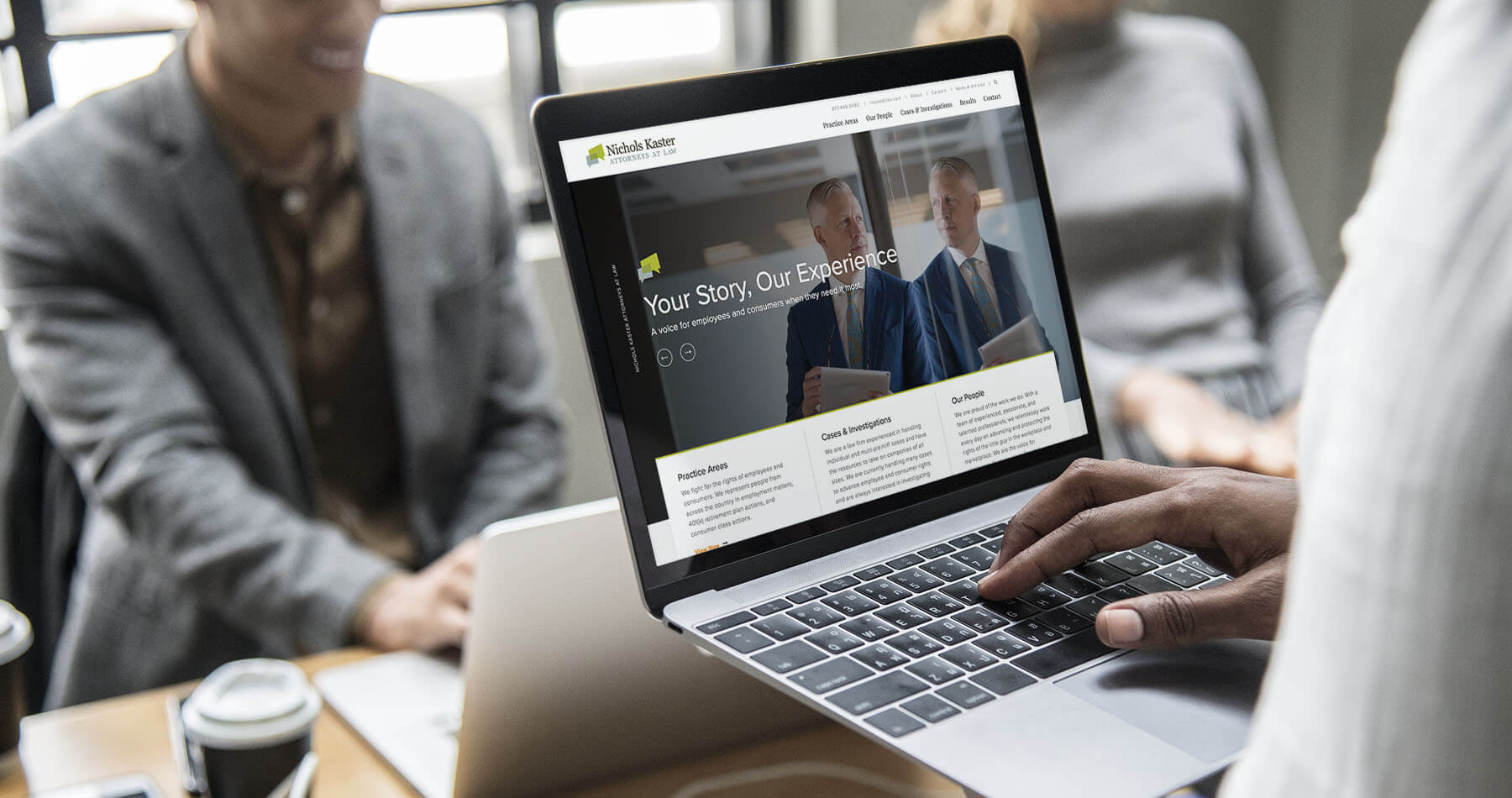 Website Port & Responsive Redesign
When Nichols Kaster received notice from their web design company that they would no longer be able to continue providing service, they were put in the difficult position of needing to find a new web design partner that could take over the site before it went down in 30 days. To make the best out of the situation, they decided that this would be a perfect time to redesign the website and find a web design company that could help guide them to a more robust online presence.
So we came up with a plan to temporarily migrate the existing site to a more robust hosting platform so they didn't experience any downtime, while simultaneously creating the next NKA.com. We worked closely with the entire NKA team to improve usability and created a web design that successfully conveyed the strength, compassion and professional experience that NKA represents.
Services Provided
Planning & Strategy
Responsive Web Design
Web Development
Strengthening the Brand
For over 40 years, Nichols Kaster has built a reputation of trust, compassion, and strength by fighting for the rights of employees and consumers who have been treated unfairly by corporate goliaths. So nothing was more important to NKA than ensuring that the people they serve feel confident and protected by a firm they can trust. The design fused a clean layout with strong, yet approachable typography to create a comfortable experience. The aesthetic is punctuated with dark colors, and bold photography of real lawyers to emphasize the personal connection that NKA builds with clients.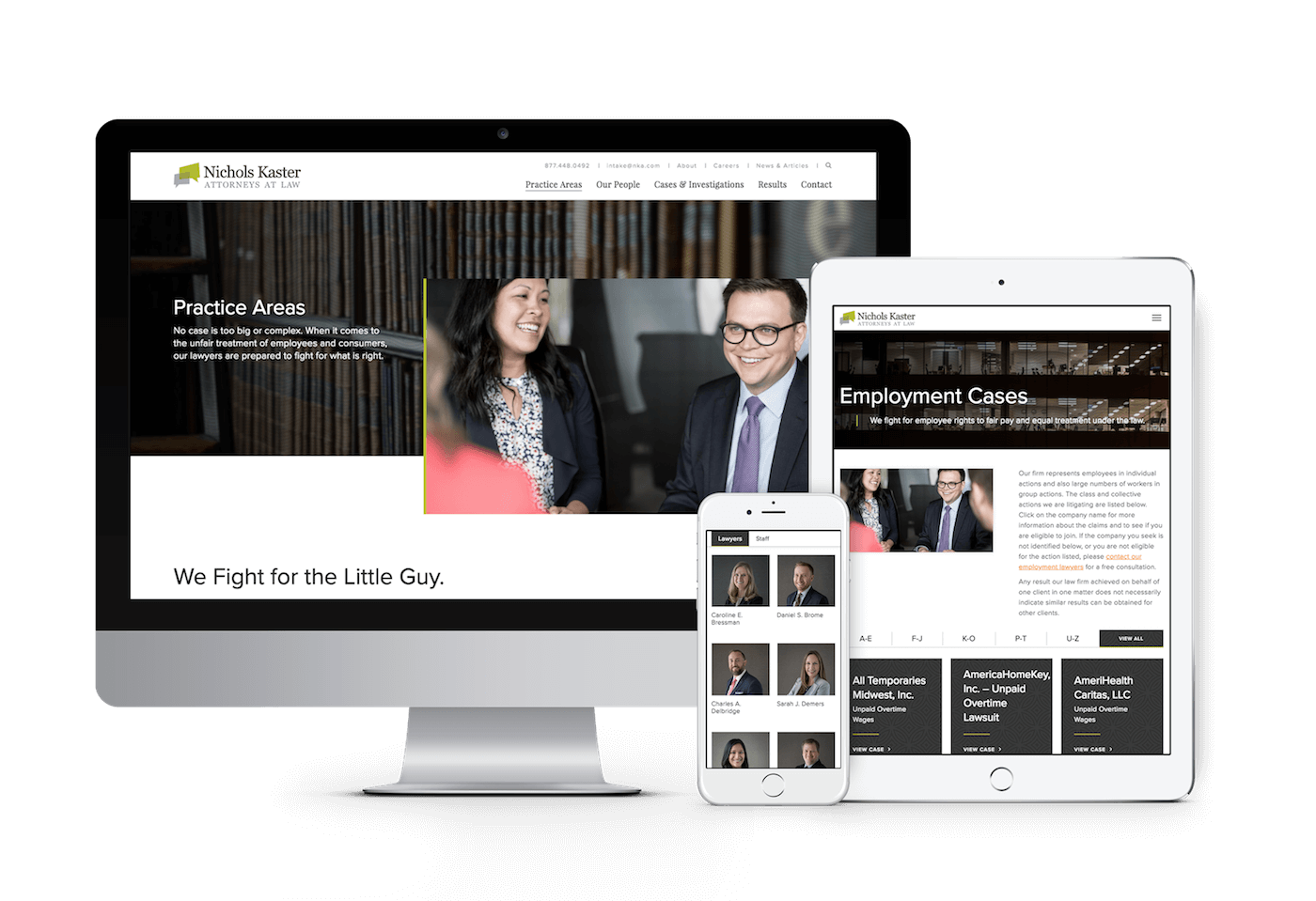 Clarifying Practice Areas
NKA has deep experience across a wide array of practice areas. This presents its own challenges: how do you create a simple navigation for visitors that don't have that aren't as experienced with such a complex and nuanced subject matter? The Plaudit Design team devised a framework and navigation structure that would enable visitors with minimal knowledge to find the information they were looking for, while affording NKA the flexibility to expand or adjust the site as needed.
Reorganized Navigation
We worked with the entire NKA team to reorganize over 50 different practice areas. These important pages help visitors learn about their rights and identify whether they might be a victim of illegal conduct. The new site guides visitors in finding relevant information through a series of easy-to-understand options.
Reimagined Layouts
Each practice area was redesigned to provide easy access to the most critical information. Each page begins with a simple summary and continues with tabs to enable the visitor to access additional information to help them learn about the topic, such as examples and articles.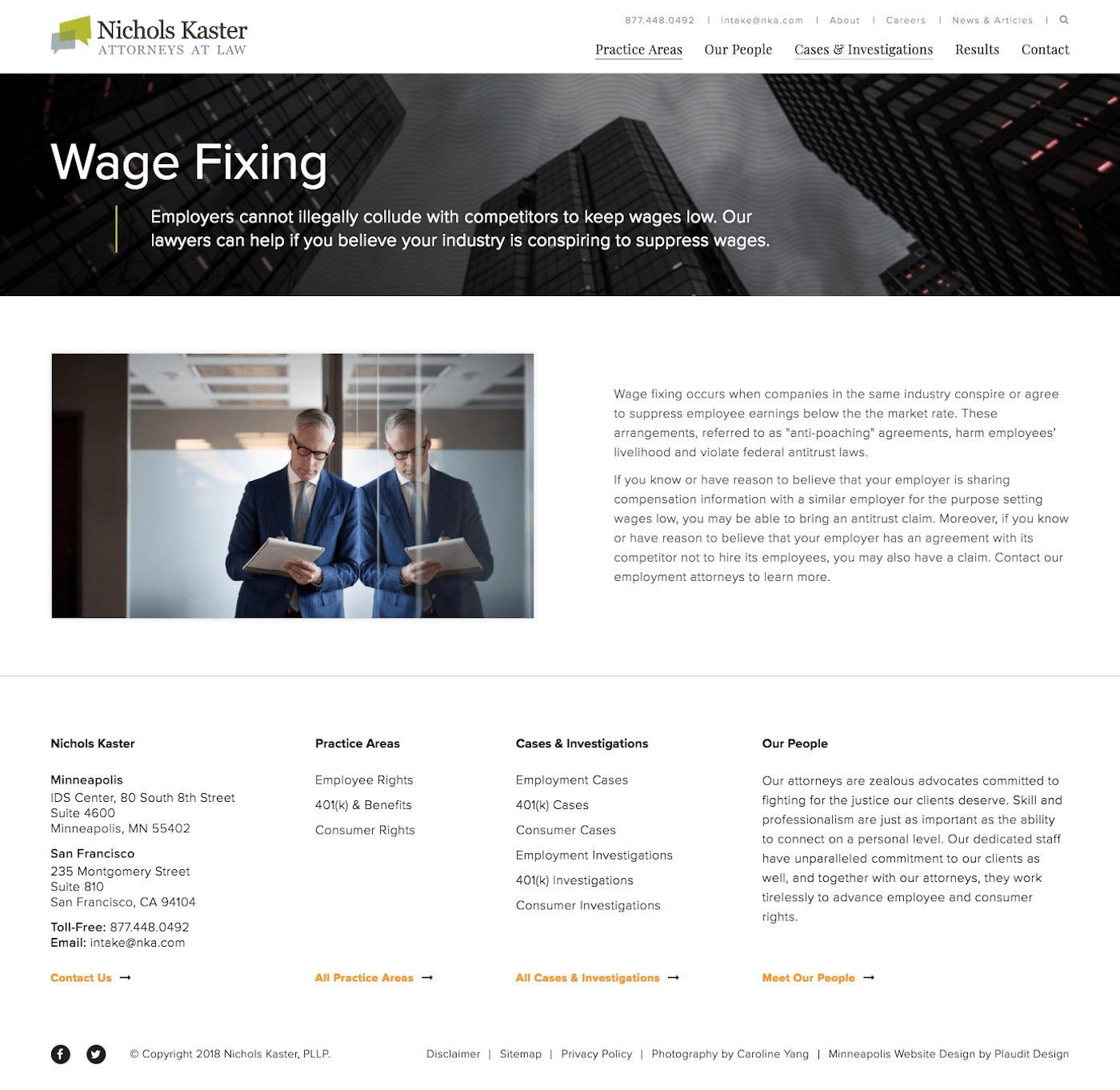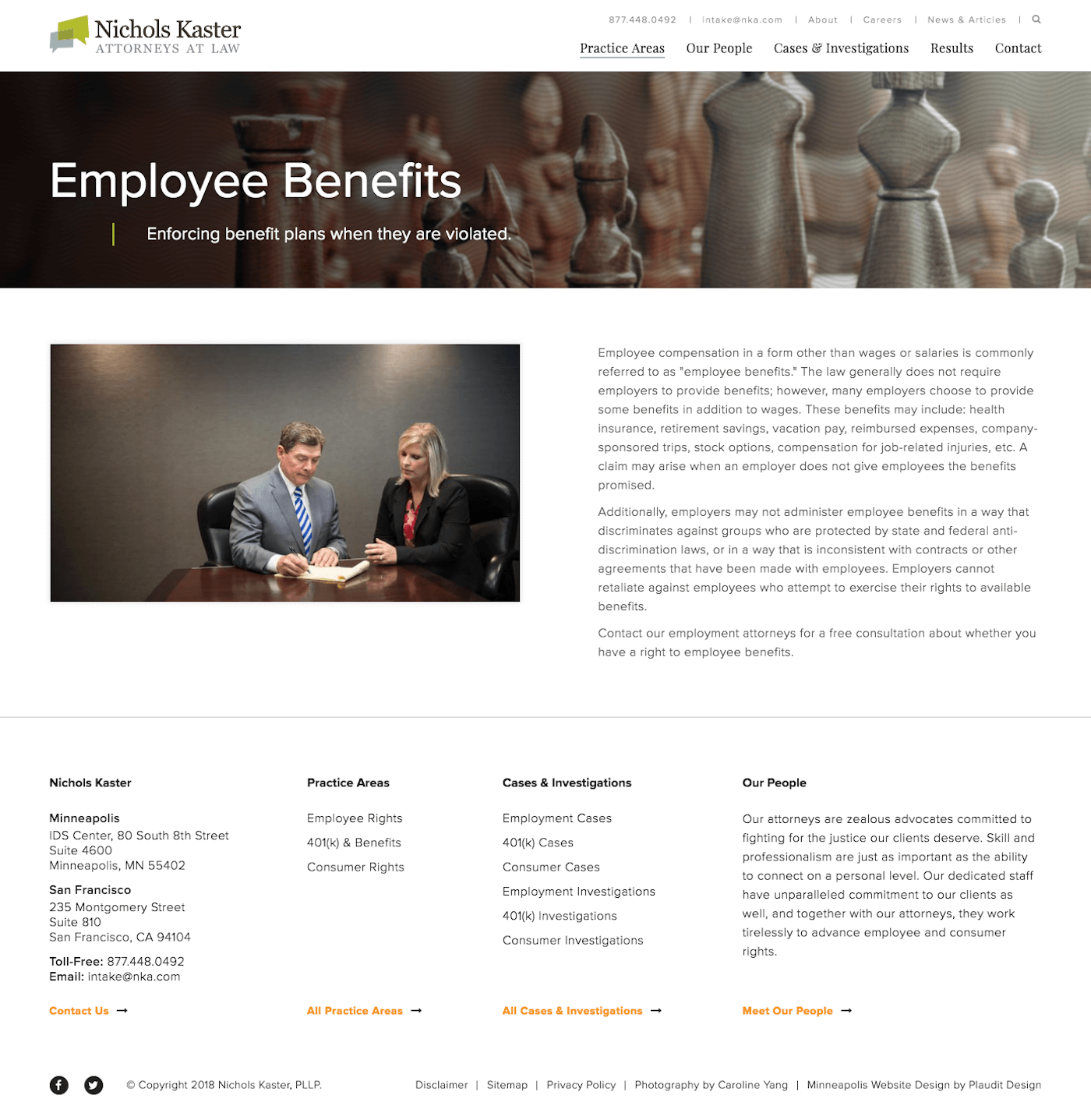 Creating a Connection
Taking legal action against a large corporation can be intimidating for the individual employee or consumer. The new NKA website needed to to show visitors that by working with Nichols Kaster, they are represented by an entire team of lawyers and staff that are dedicated to justice. So we designed the "Our People" section to emphasize that team, and their experience.
The Support of a Team
The Our People page employs a simple card interface to show the photos and names of NKA's attorneys. These photos help personalize the team and presents each lawyer as a friendly and confident partner. Additionally, this layout subtly emphasizes the size of the team, with almost 70 lawyers and staff members represented here.

The Strength of Its Members
This section also showcases the strength of each lawyer and staff member through a unique profile page. Using an efficient and mobile-friendly layout, visitors are empowered to explore the qualifications and experience of each team member. The page is also incredibly flexible, so that NKA can include more detail (like Awards, Publications or Speaking Engagements) or less detail as appropriate.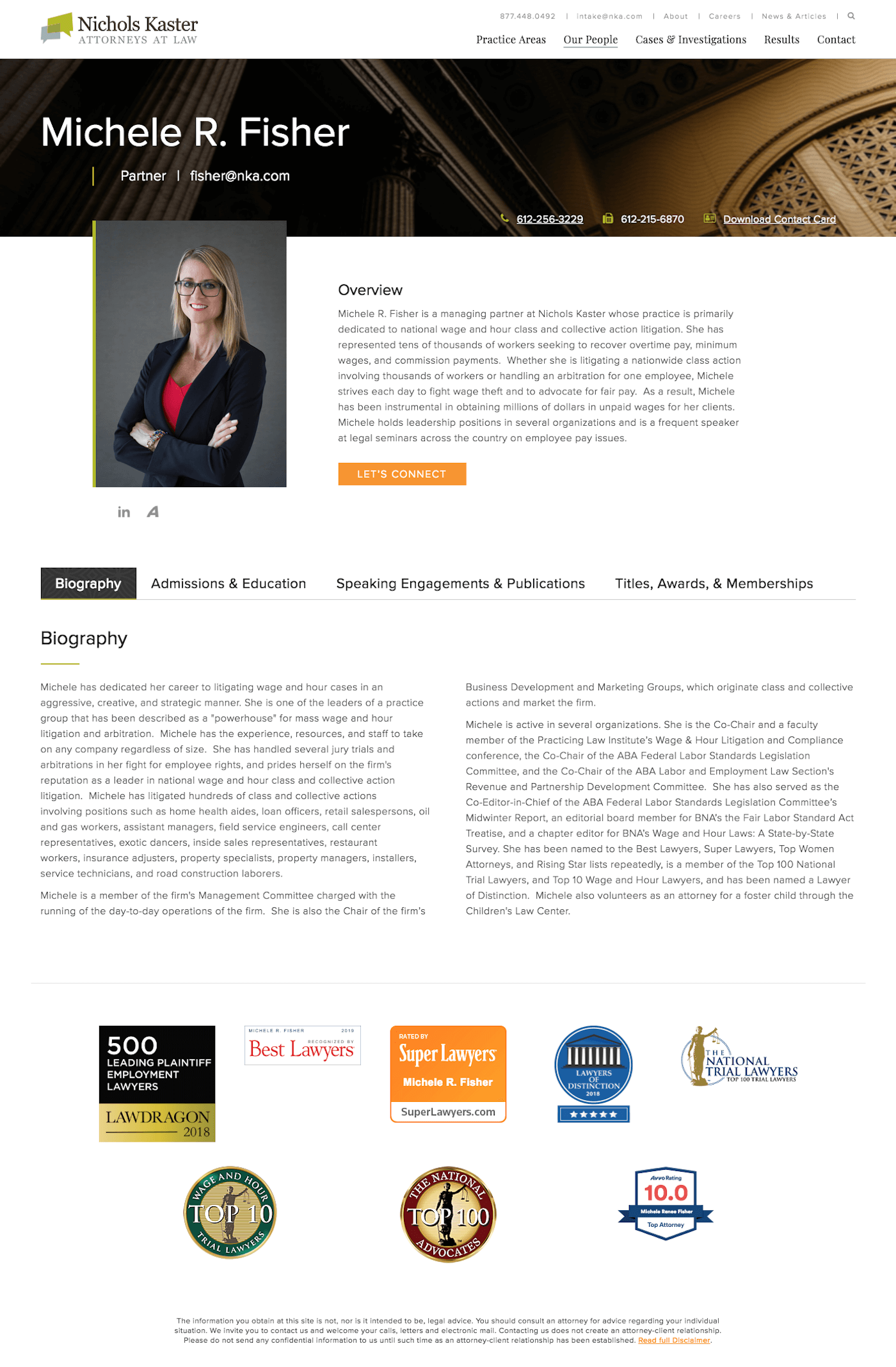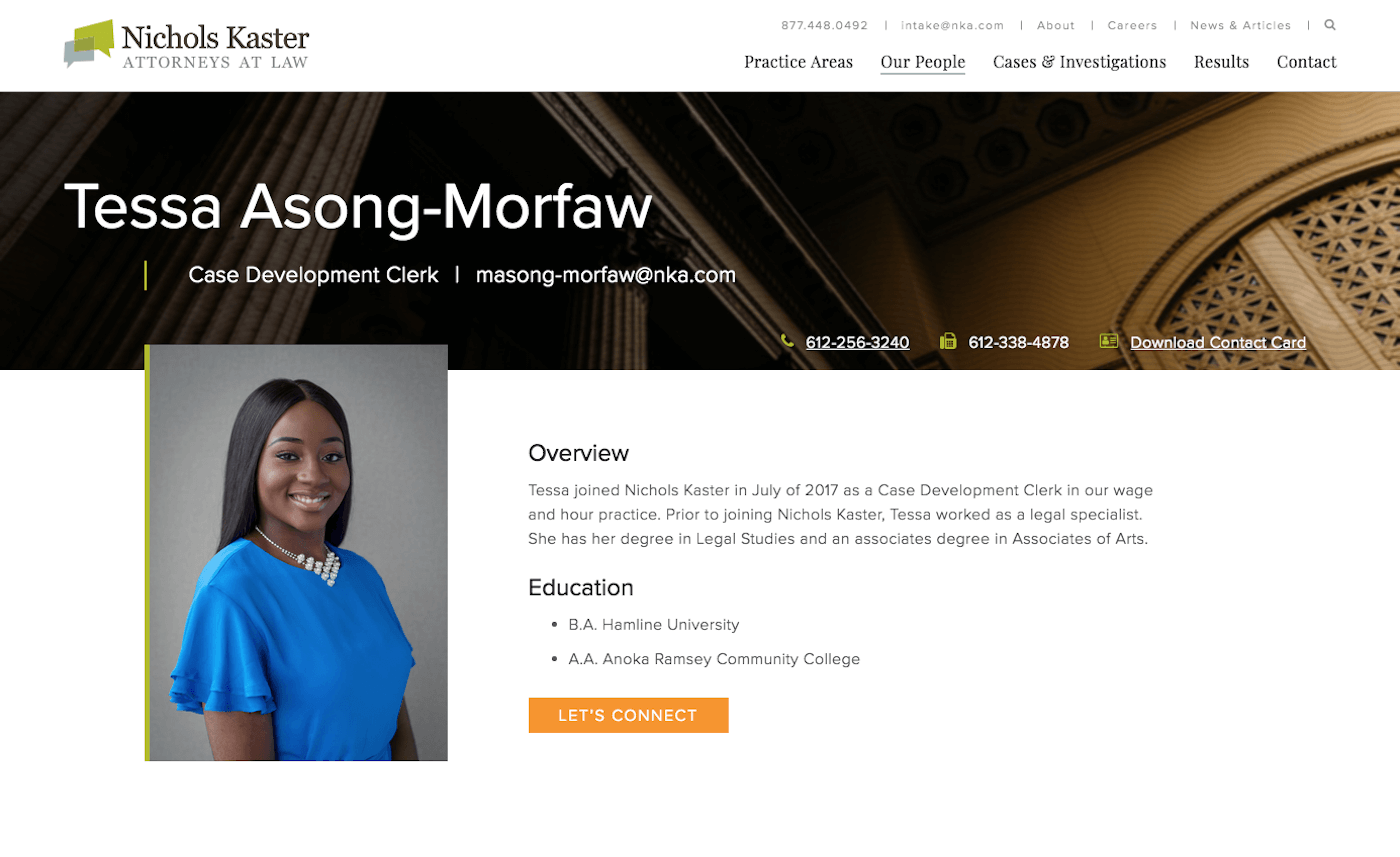 Featured Results
While the track record of Nichols Kaster often speaks for itself, it was important to support this with examples. The brand-new Results section of the site collects a handful of important cases and clearly explains the significance of the case and the role Nichols Kaster played in the favorable decision.