Lang Nelson Associates
Industry
Property Management & Development
Responsive Website Refresh
Lang Nelson Associates, an award-winning property management company, chose Plaudit Design to reinvent their web presence back in 2013. However, they opted not to implement mobile responsive technology. After almost five years, the site was due for a cosmetic update – so we took the opportunity to enhance website usability by updating key layouts and integrating support for mobile devices.
So our strategy and design teams worked with Lang Nelson to identify opportunities to improve engagement and created solutions to address them through cleaner layouts and a simpler user interface so that website visitors can effortlessly find the information they are looking for. The new website design resulted in increased engagement across the board.
Services Provided
Planning & Strategy
Responsive Web Design
Web Development
Modern Web Design
The new Lang Nelson website needed to integrate a more modern design aesthetic in order to help visitors from a broad range of age groups better find their way through the website. The new design made use of bold contrast, large fonts, and distinct sections throughout the site in order to improve usability.
Highlighting Communities
As an award-winning property management company, Lang Nelson's communities are the most important part of the website. In order to help visitors explore these communities, the new site focused on improving the browsing experience throughout the Communities section.
Finding a Community
By combining the map with the list of communities, visitors can immediately see which communities are closest to their loved ones. Communities are presented as distinct cards, enabling visitors to easily scan them, and touch or click one for more information.
Exploring a Community
Individual community pages simplify the experience by putting key details like imagery, location, and contact info front-and-center. As visitors scroll deeper, they are presented with key details to help them evaluate each community. With integrated community news from the Blog area and quotes from real residents, visitors can catch a glimpse of what life is like at each community.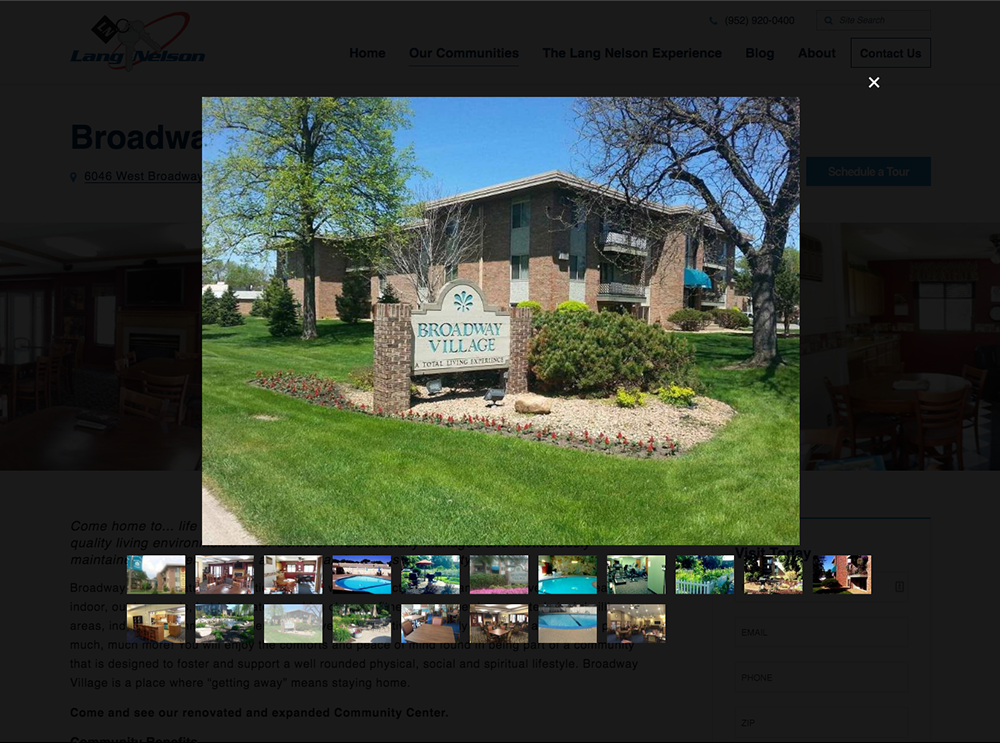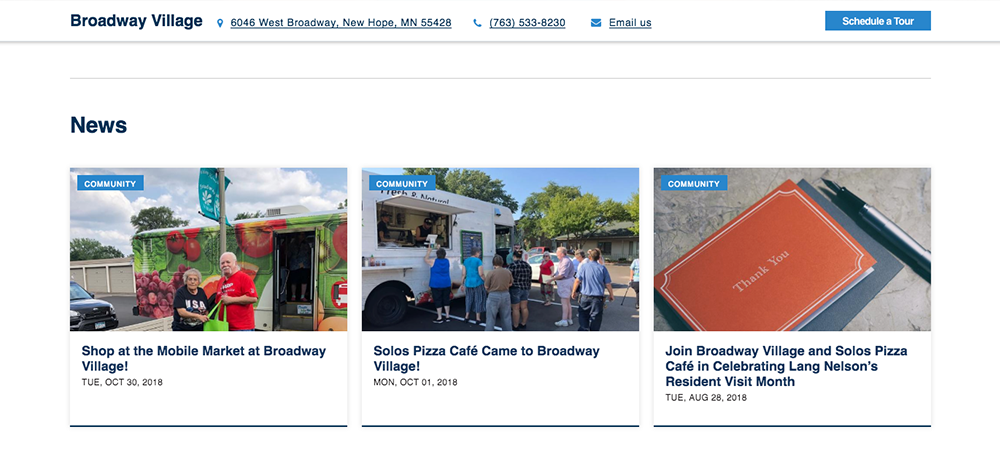 Getting In Touch
In order to better assist users and provide them with more information, the new layout incorporates ample opportunities to reach out to Lang Nelson to schedule a tour, or just ask questions. Since the launch of the new website, lead conversion rate has increased by almost 89%.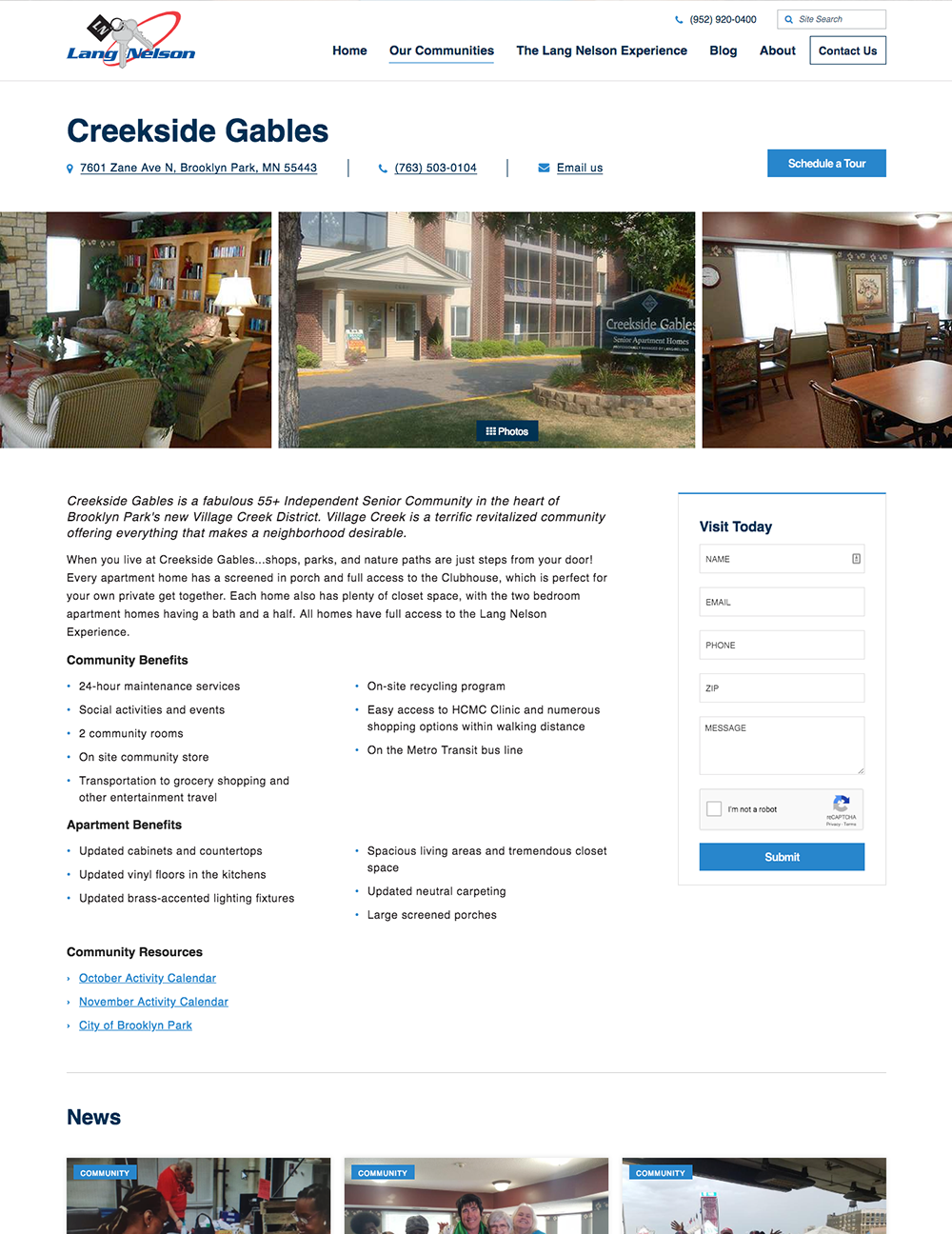 The Lang Nelson Experience
Lang Nelson's unparalleled dedication to the highest quality of life is one of their most important advantages. In order to better communicate this, the new website placed a stronger emphasis on two key sections: the Lang Nelson Experience, and the Blog.
The Lang Nelson Experience
This section was redesigned and expanded to provide more opportunities for visitors to explore the more intangible benefits of living at a Lang Nelson community. We created new pages that detail the many exclusive benefits available to residents, such as the Lang Nelson transportation fleet, wellness programs, and abundant social programs.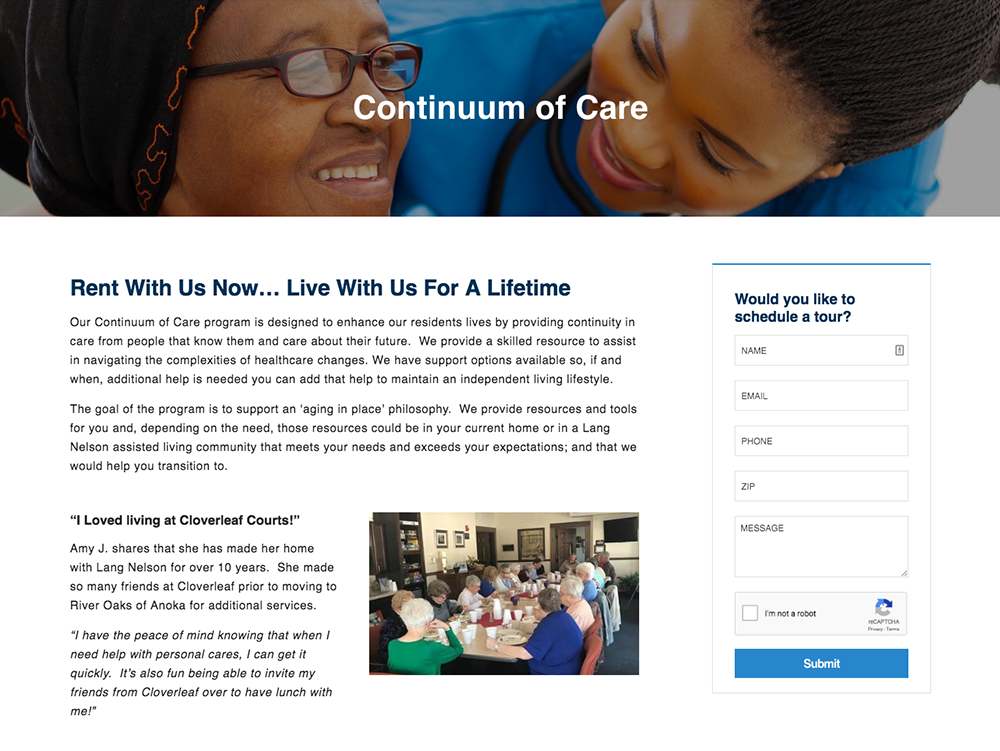 Blog
The blog serves as a window into life at a Lang Nelson community. Frequent updates highlighting recent activities, community updates, and resident stories help to demonstrate the Lang Nelson Experience in action. To better help visitors engage with this important content, the new design simplified navigation by consolidating categories and integrating a card-style layout.