Hunt Electric Corporation
Industry
Electrical Contractor
Web Design Overhaul
When Hunt Electric saw the need to create a powerful and robust online presence in 2012, they chose Plaudit Design. As one of the strongest full-service electrical contractors in the nation, it is critical that the website is able to represent their reputation as an industry leader. So after six years and several incremental improvements, it was time for a website overhaul.
To guide the new design, Plaudit Design helped to identify opportunities and laid out a comprehensive strategy for the new website. The website design needed to better engage visitors, and provide deeper information about Hunt's services and experience. The new design resulted in a big boost to engagement compared to the previous design.
Services Provided
Planning & Strategy
Responsive Web Design
Animation/Interaction Design
Web Development
Design for Engagement
To better engage website visitors, we concentrated on creating clearer, more focused layouts, and then infused them with modern design and subtle animations, Pages were divided into distinct sections that served a clear purpose. Lists of projects or capabilities became cards that were easier to see and easier to click on. The result was a design that encouraged users to explore and interact with the site.
Expanded Capabilities
As an industry-leading electrical contractor, Hunt needed to be able to effectively communicate their capabilities and expertise to customers with a broad spectrum of knowledge and experience. So the new website design focused on increasing clarity and depth within the Capabilities section.
Reorganized
By grouping capabilities into categories, visitors are able to identify which capabilities fit their needs best, and dive deeper for more detail.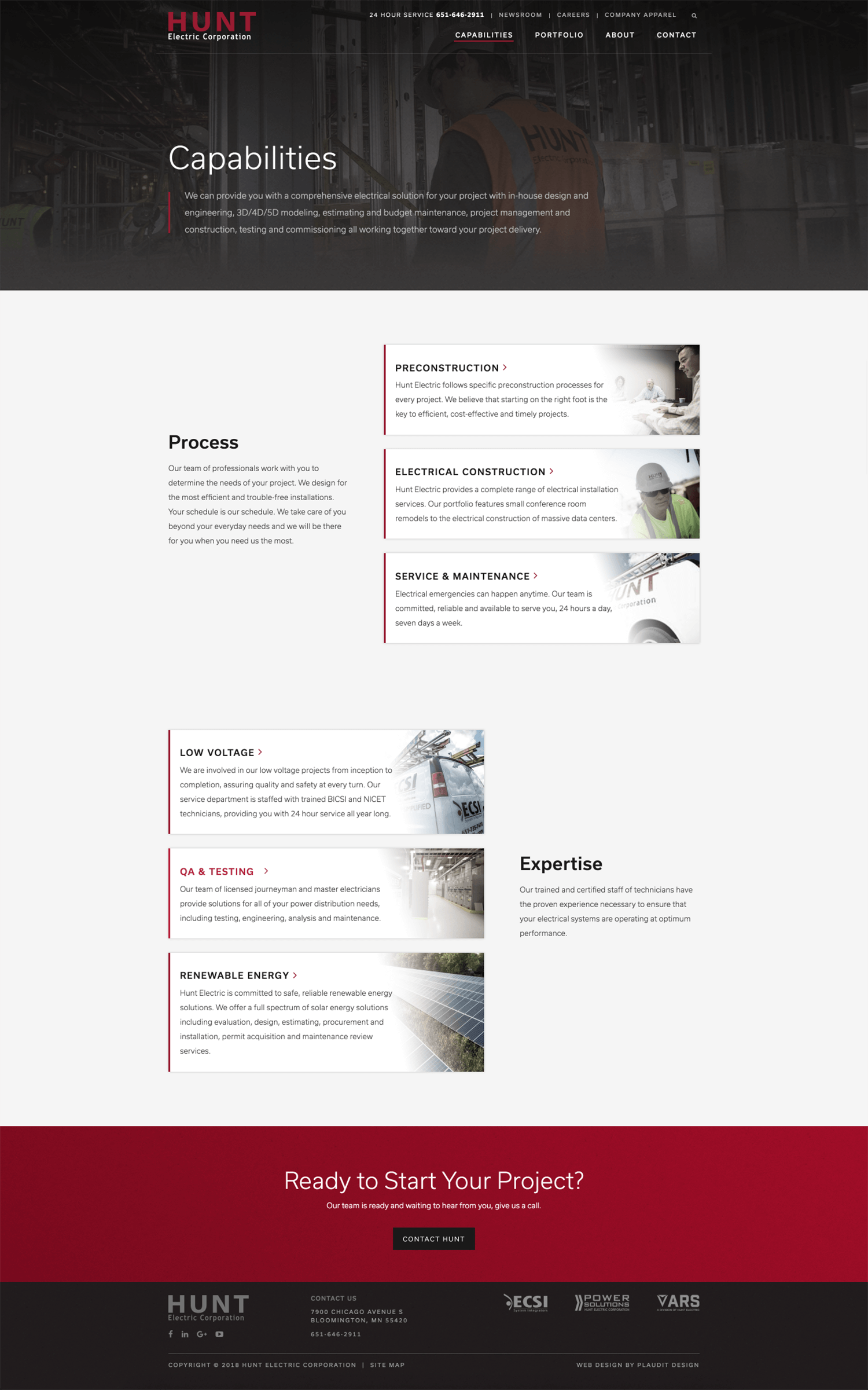 Summarized
Individual capability pages are divided into multiple sections that each introduce a single key idea. These sections enable visitors to easily skim the page to find and engage with information meaningful to them.
Connected
Each new capabilities page is connected to relevant projects to showcase Hunt's deep experience, and includes links to additional capabilities to ensure the visitor is able to find what they are looking for.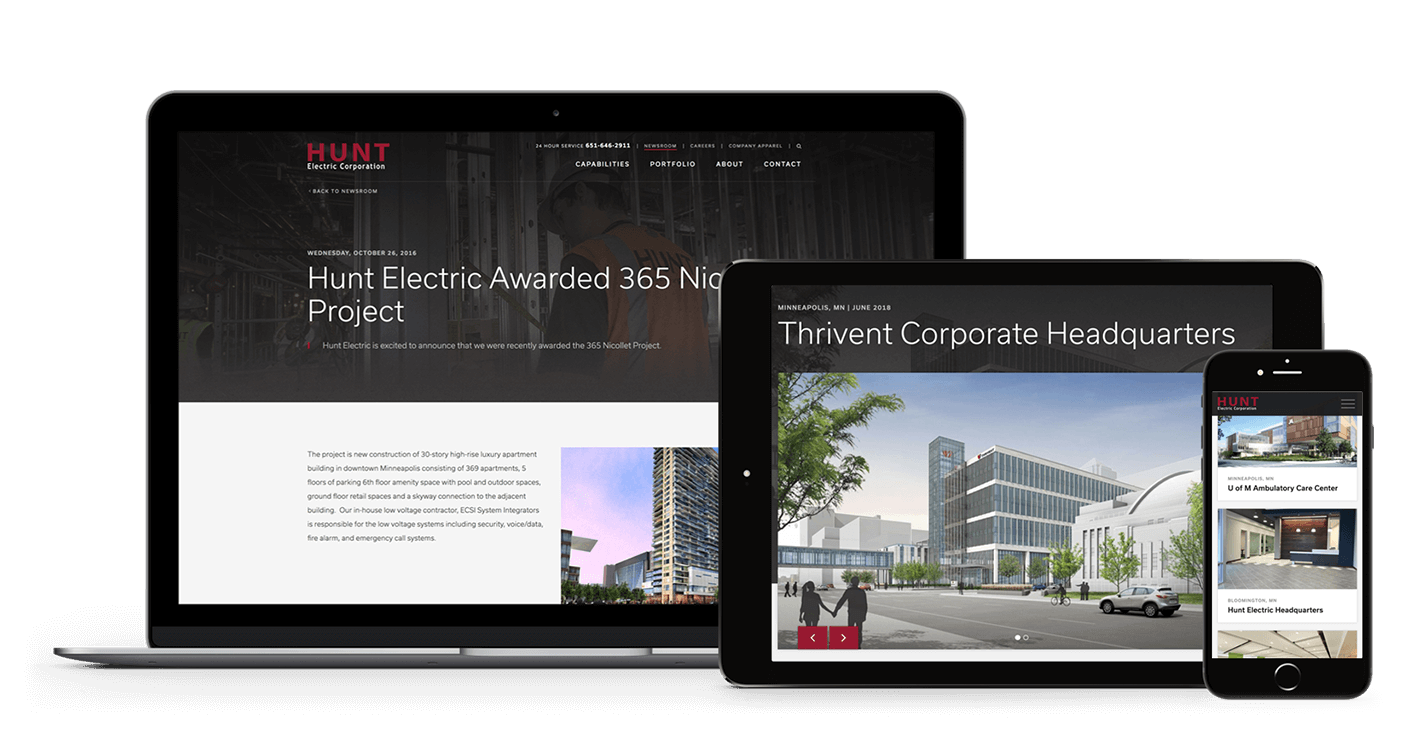 Enhanced Portfolio
Hunt Electric's top-tier work with organizations in almost every market brings them to projects across the country. In order to truly demonstrate their capabilities, the website needed to include a catalog of projects that enabled website visitors to explore Hunt's vast portfolio of experience. We made several enhancements to make the portfolio more engaging and user-friendly.
Simplified Browsing
In order to simplify the user experience, we removed the map and eliminated a few rarely-used filters. This helped put the projects front-and-center and encouraged visitors to explore each project to learn more, while still enabling the user to narrow down the projects by Market.
Redesigned Projects
The new individual project page was designed to provide a stronger focus on the project itself. While the previous design presented each project in a small lightbox window, the new projects make an impact with a large image, before presenting a simple summary of the project. A distinct section labelled "Hunt's Role" accentuates Hunt Electric's contribution to the project and directs the visitor to the applicable Capabilities page to learn more.
Support Recruitment
As Hunt Electric continues to grow, it has become increasingly important to address the needs of job seekers and to showcase Hunt's dedication to a creating a positive work atmosphere. So we worked closely with Hunt to design a new employment page that puts a spotlight on culture. By highlighting organizational values, the perks and benefits of joining the Hunt team, and quotes from real employees, visitors get a better sense of what life is like with Hunt Electric.