Clearfield Connection
Industry
Industrial Electronics Manufacturer
As a publicly-traded manufacturer of high-performance fiber optic network equipment, Clearfield, Inc. needs to stay on the forefront of technology. So when they recognized that their corporate website was in need of a major update to support mobile devices, they turned to Plaudit.
Through discussions with the Clearfield marketing team, we discovered that they also needed a way to showcase two of Clearfield's most important product families – FieldSmart and FieldShield. So we created an innovative tool that enables the user to explore an interactive city and discover how Clearfield's products bring fiber networks to life.
Services Provided
Planning & Strategy
Responsive Web Design
Animation/Interaction Design
3D Modeling
Web Development
We Built This City
For a wide variety of organizations – from telecom service providers, to utility and municipality installation and even military applications – Clearfield's products play a pivotal role in deploying high-performance fiber networks. Every fiber deployment scenario has its own unique set of challenges and needs, so how do you adequately communicate the value of Clearfield's solution to such a broad group of customers with diverse deployment scenarios?
Plaudit Design met this challenge head-on by creating a virtual city to explore Clearfield's products within the context of a variety of real-world applications.
Making Fiber Accessible
Fiber networks are complex, so an important requirement of the interactive tool was to make sure that the role of Clearfield's products was clear and easy to understand. It needed to be approachable. So we created an aesthetic designed to reinforce this. Using simple artwork and illustrations, we built a world that invites the visitor to explore.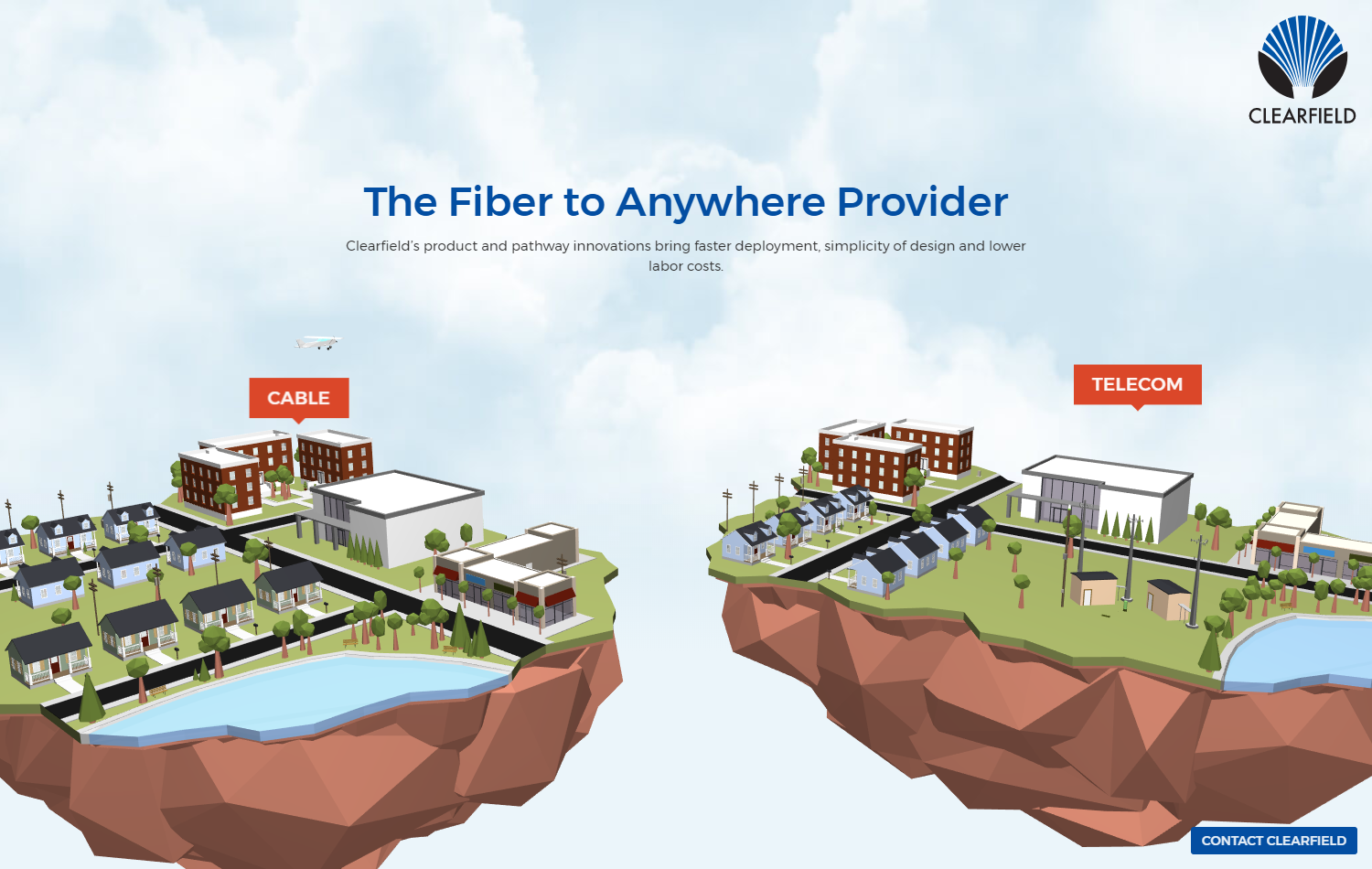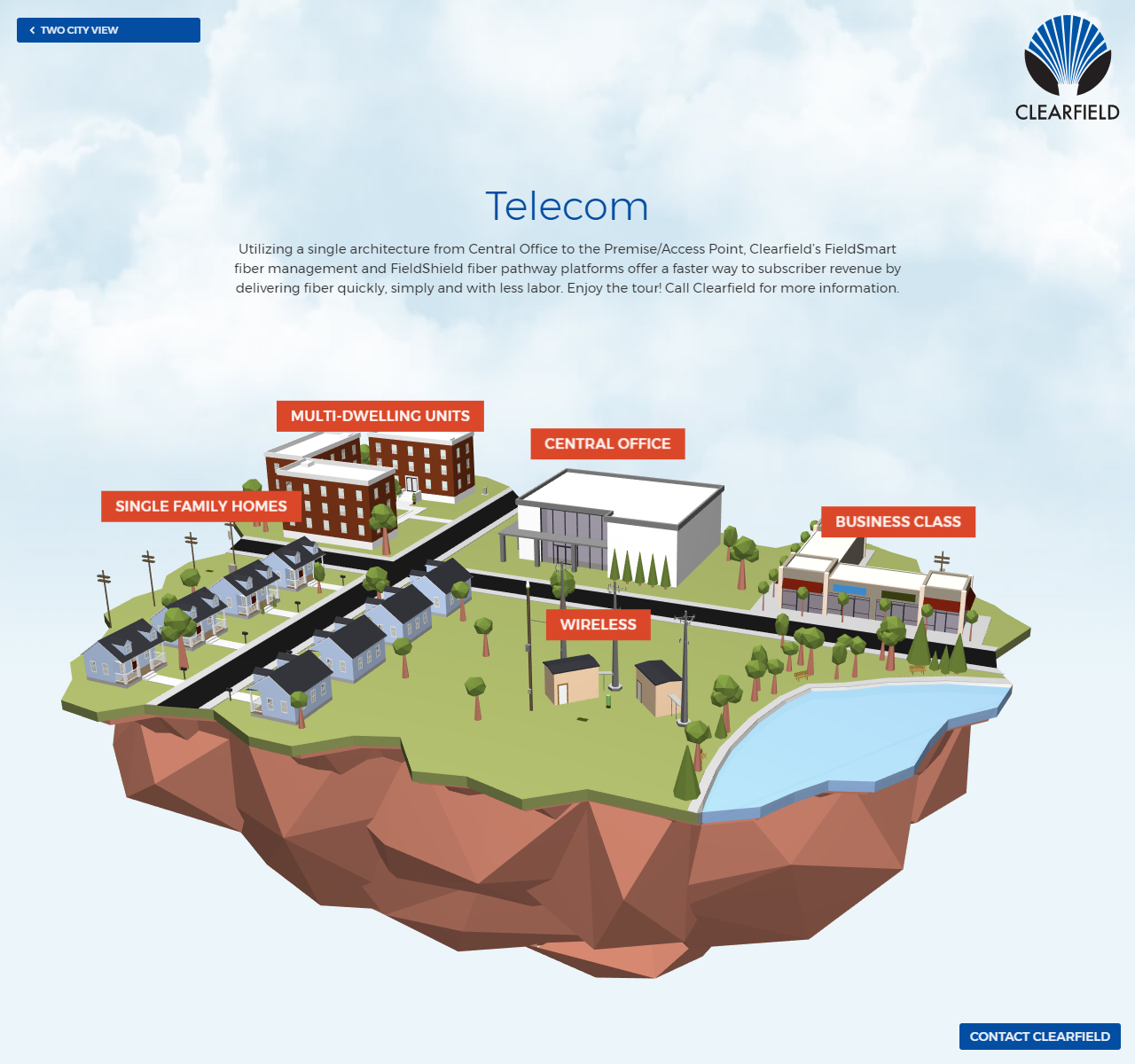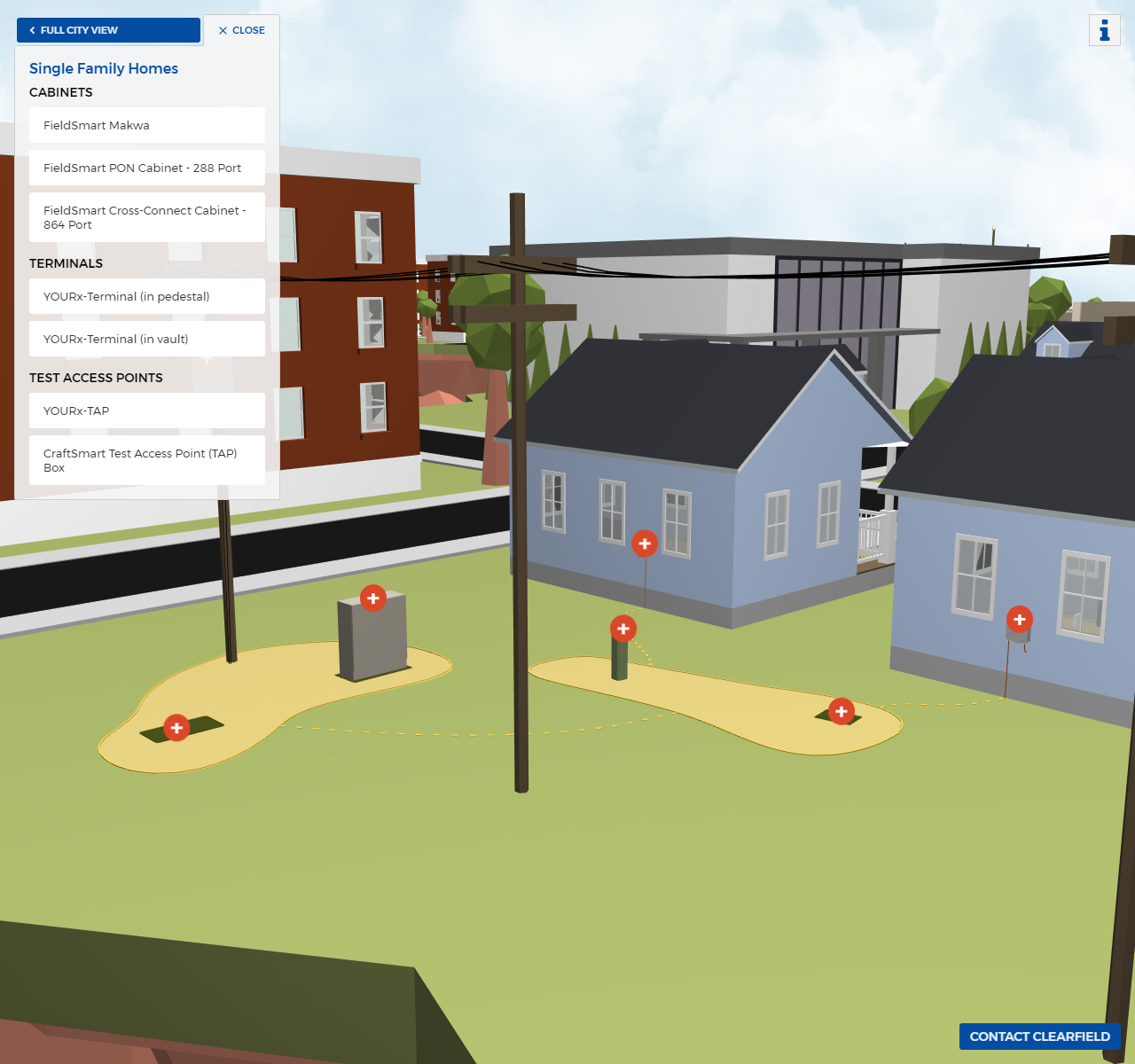 Multiple Deployment Scenarios
Each city was created to present common deployment scenarios together into one cohesive experience. This enables potential customers to learn just how versatile the Clearfield solutions are, and it encourages them to dive deeper and learn how each product is designed to improve speed of deployment and reduce cost.
Components
As visitors explore the environment, they are presented with opportunities to dive deeper and learn about the various components involved in each fiber deployment scenario. Each scenario highlights the key components, and each component can be opened to see the parts inside.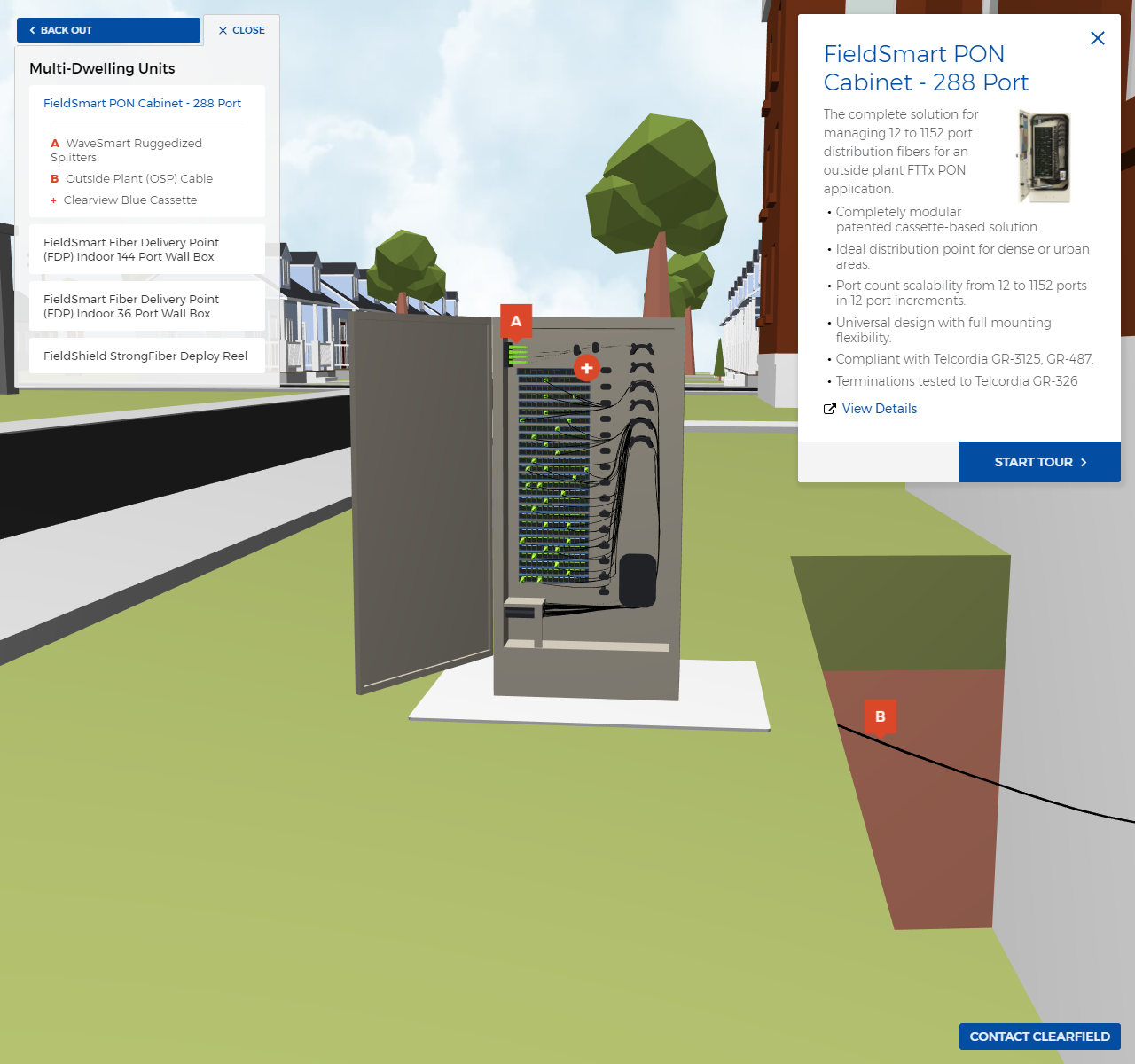 Tours
Once a visitor interacts with a component, it opens up to reveal the key features and Clearfield parts inside to showcase the innovative design. Visitors are able explore these on their own, or start a tour that will guide them through each step.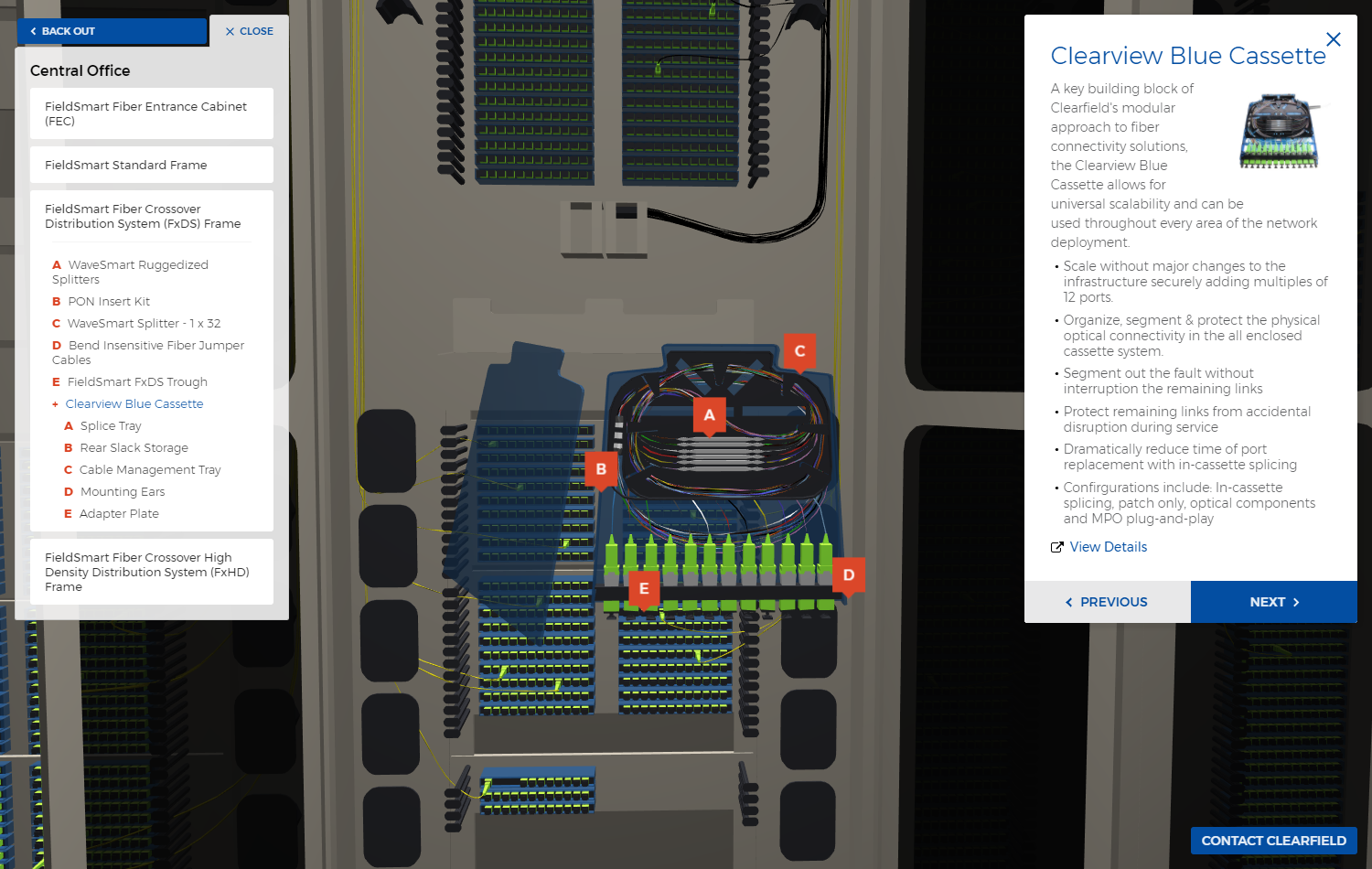 Offline and On the Road
While the interactive city was designed to be used online and within a web browser, we saw an opportunity to support even broader usage. By leveraging modern browser technology, we built the tool to enable Clearfield sales reps to install the application right on their laptops and utilize it offline. This capability opened an entire world of opportunities for Clearfield to utilize the interactive experience at trade shows and other venues where they are unable to rely on the availability of the Internet.